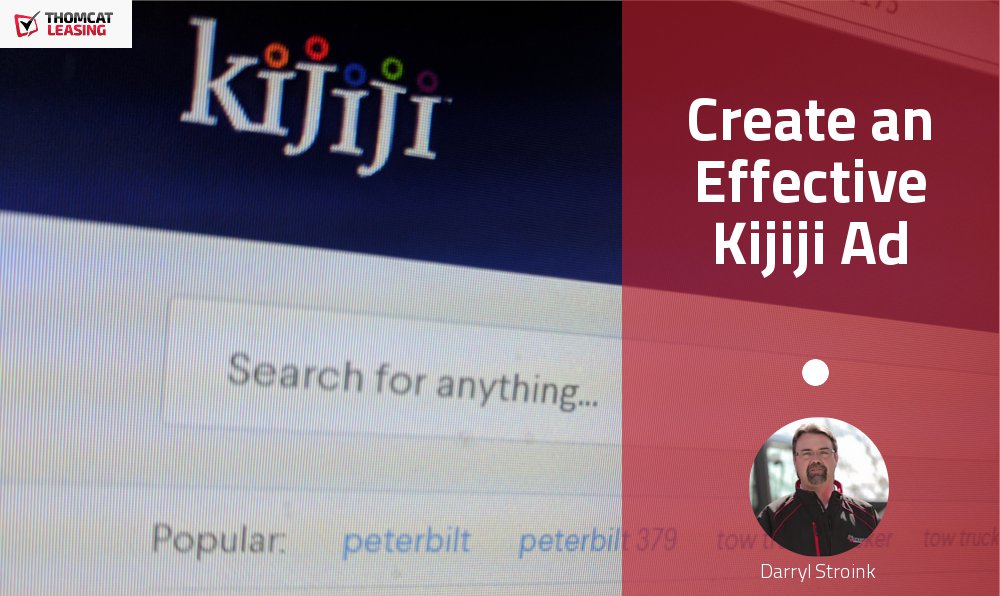 Tips for Placing the Perfect Sales Ad on Kijiji
One of the best places to sell your heavy equipment is through an online classified service. Kijiji is one of the major ones in Canada. It connects millions of people in hundreds of communities who are looking to buy or sell equipment.
Here are 9 tips for constructing the perfect Kijiji advertisement to sell your heavy equipment online quickly.
Spend time developing a fair price.
Consider the fair market value of the equipment and take into account any repairs that may be needed. Also provide an option for equipment leasing or equipment financing as there are many small business owners who don't have the money to buy equipment outright.
Do your pricing research on what other sellers of the same or similar equipment are priced. Never leave your price tag as "Please Contact."
Make your title accurate.
The buyers for heavy equipment want to know what they are getting. Make sure you indicate the make, model, and year. Additionally, you could add short notes about included attachments or condition. Here's an example of a good title:
2015 CAT 320D Medium Excavator – 42" & 48" HD Buckets Incl.
Use your description text.
You may be surprised at how few people make use of their long description area. Don't forget to mention facts about the equipment that you think everyone knows. Provide specifications here as well as a little up selling language like "priced to sell."
If financing is available for this equipment, you should mention it here. Financing is a great tool to move your equipment faster. And it's really easy to offer with the Thomcat Leasing Equipment Reseller Program.
Provide photos.
The best part of selling online is being able to see a product you want to buy without getting off the couch. Post pictures of the heavy equipment or truck from the front and diagonal and then provide closeups of areas that are in better (or worse) shape than the typical vehicle. This will help you provide buyers with an objective vision of what they might want to buy, plus it provides transparency if there are any cosmetic problems associated with the equipment.
Spend a little more to advertise and reap the benefits.
For a little extra, you can have your equipment leasing or sale listing featured on the front category page of Kijiji. The Bump Up feature allows you to have your advertisement raised to the first page 1, 3, 5, or 10 times and provides you with more visibility. It's relatively inexpensive and worth it if you can find a buyer fast.
Don't forget to add a postal code to your listing.
While your potential buyer may not live in the immediate area, this will serve to make your advertisement more visible for buyers who might live nearby and your listing will show up when users search for products within a certain distance of their postal code.
Respond to your inquiries.
When someone contacts you with interest in your equipment, respond to them quickly. Answer their questions honestly and succinctly. Unless the equipment isn't worth the price you're selling it for, you have nothing to hide.
Learn to identify scams.
Never send people money who promise to buy your equipment if you do. Be wary of out-of-country buyers. And nobody legitimate ever wants to pay MORE than you've priced your equipment.
Show you're willing to negotiate.
"OBO" (or best offer) might be an overused acronym in your opinion, but it does communicate a very important piece of information – you'll negotiate. And you will, because buyers on Kijiji are looking for deals. Make them feel like they've won when in fact you settled on the price you wanted in the first place.
Get All the Tools to Make a Sale with Thomcat Leasing
Whether you're selling one piece of equipment or hundreds, you should offer buyers a leasing option. This will help you close the sale, reduce sticker shock, and make addons more affordable.
Thomcat Leasing gives you all the financing tools you'll need. Plus, they'll do all the heavy lifting for you when it comes to lease contracts, terms, conditions, and payments. Just sell your equipment and collect 100% payment from a happy customer! Create a profile in the Thomcat Leasing Vendor Program today – it's completely free and carries no obligations.