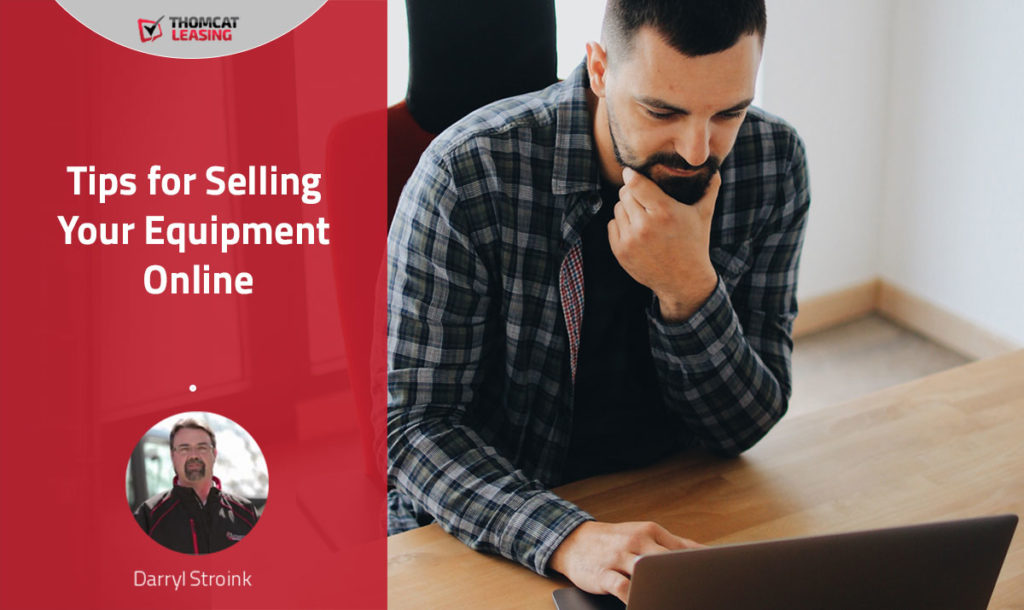 How to Make Your Classified Ad Attractive and Get Top Dollar for Your Used Equipment
Selling your business's surplus equipment is a great way to cash in on the value of your assets. If your business is growing, selling your used equipment can help finance new ventures.
We live in an increasingly online world and the business of buying and selling is moving online with it.
Pick your online platform like Kijiji, Facebook Marketplace, Autotrader, Supply Post, etc… Hint: Facebook Marketplace has been working really great for us lately. Once you decide on a platform (or two) the next step is creating a convincing ad. The following tips will help you fine-tune your ad and make your equipment stand out from the competition.
Minimize Sticker Shock
Even when you do a great job with your ad, you may get interested shoppers, but no buyers. Why? The answer may be sticker shock. Imagine you are shopping for a used backhoe. Seller A is advertising $18,000 cash and Seller B is advertising $375.00 per month over 48 months. Sure, they ultimately cost the same, but one looks far more affordable. Offering financing to potential buyers is a great way to make your equipment more attractive. You don't have to be a bank to pull it off either. Options like Thomcat Leasing's Vendor Toolkit provide easy-to-use financing solutions for small businesses and B2B sales. The service is totally free to you, a bonus to your buyer and ensures no-hassle payment.
Do Your Research
Before you sell your equipment, you need to know what it is worth in today's market. Research pricing and industry trends. Keep in mind that operating hours and condition can affect price as much as make and model. Take note of selling features and how other ads are worded. Are other sellers offering financing? Do they mention maintenance records or offer transport? Get a feel for your equipment's potential price range—and what your potential buyers are looking for.
Stage Your Equipment
Something as simple as a thorough cleaning inside and out can make a big difference in the sale price. Clean equipment looks newer, more attractive and in better condition. Removing dirt and grime also allows the potential buyer to get a good, detailed look at the equipment—helping to create confidence in your ad.
Complete Small Repairs
A smart seller will repair or replace (inexpensive) damaged components before putting an item up for sale. Anytime a sale listing includes the words "damaged", "broken" or "worn" the potential buyer will be hesitant and expect a corresponding drop in price. A small investment in time and effort up-front can substantially increase equipment value and shorten the time on the market. Obviously, equipment can be sold "as-is, where-is". However, if you are looking to get top dollar for your equipment, take the time to do some refurbishing and repair.
Take Quality Pictures (And Lots of Them)
No one makes a big purchase based on one or two blurry photographs. If you are selling online, your photos may be the only way a buyer can view your equipment before they buy it. Before you post, ask yourself:
Are the photos in focus and well lit?
Do they include closeup shots and shots of the item from all angles?
Is there anything in the background of the shots that shouldn't be there?
Are there closeup photos of any parts that are damaged or worn?
Get Your Paperwork Together
Good documentation is crucial. You will need to be able to provide proof of ownership, documentation on any warranties still applicable and, ideally, the equipment's maintenance records—listing regular service and the history of any major repairs. Transparency creates trust and trust creates sales.
Provide Detailed Information
It is better to provide more detail than you think is necessary. Potential buyers have a lot of options these days and will not stick around if details are lacking or if anything seems "off". Provide pictures, detailed descriptions, technical specifications and any other pertinent information upfront. You can create trust through complete transparency. Any damage (cosmetic or otherwise)? List it and provide pictures, so buyers can judge for themselves. Read over your ad as if YOU were a potential buyer. Anything unclear or incomplete?
Want to get top dollar for your used equipment?
Give your buyers what they are looking for—a good deal on used equipment, a simple and transparent sales process, affordable financing and lease approvals in as little as 10 minutes. Thomcat's Vendor Toolkit was created for B2B sales. Our friendly leasing experts will get you set up in no time and make sure you get paid without hassle. You get your money and they get a deal. It really is a win-win.