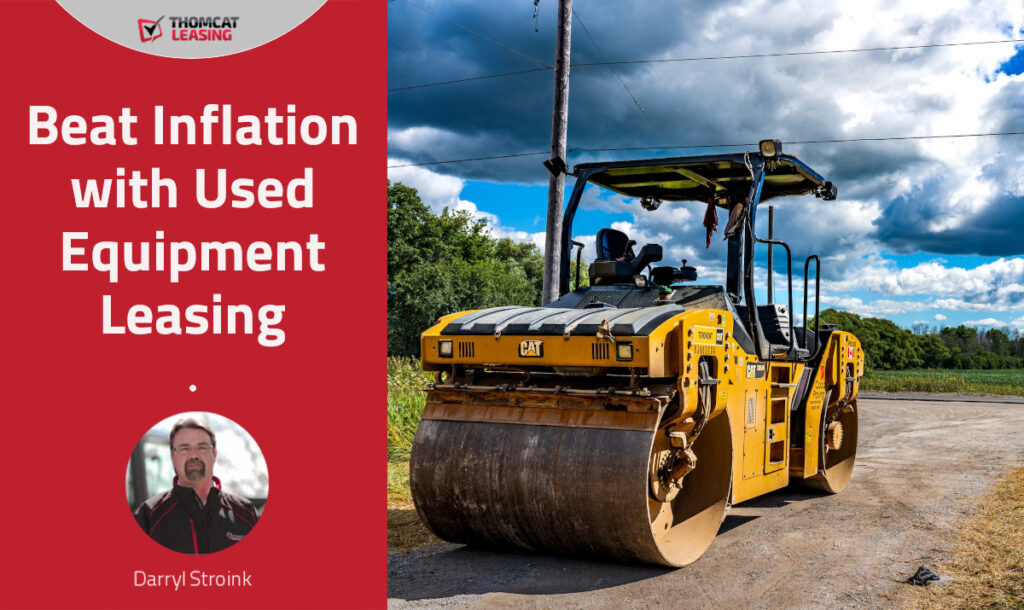 Fight Rising Costs with Flexible Leases on Older Equipment Models
Inflation, high interest rates, manufacturing delays – they're all making it harder to get the heavy equipment your business needs. How can you overcome these obstacles? Lease an older model!

Get the Leasing Advantage
If you've looked for new or recently used equipment lately, you already know that supply is limited, wait times are long, and prices are shooting up.
Don't submit to higher costs – lease an older used equipment model and get:
A shortcut around the tangled supply chain
Lower monthly payments than new equipment
Less depreciation of the equipment over the lifetime of the lease
Interest rates decided by your credit score, not the bank
To make it work, you just need to find the right equipment and the right leasing company. Many lease brokers shy away from older models, but at Thomcat Leasing we love them.
Already picked out the used equipment you want? Thomcat can give you a monthly payment estimate in just 60 seconds!
Still looking? Read on for some tips to maximize your chances of a successful used equipment search.

Find the Right Used Equipment for Your Business
How to Search for Used Equipment
You'll have the best chances of success if you cast a wide net. Plan to spend some time on your search if you want good results.
Focus on big, popular websites that give you a lot of information in their listings and have ratings for sellers. Try to find several different pieces of equipment so you can compare and contrast them before you make a decision.
Don't worry too much about price to start with. The cheapest option could cost more in the long run if it's in bad condition. Comparing several options will help you avoid zeroing in on a bad bargain.
Once you have a clear winner, then make sure everything about it and the seller checks out.
Avoid Costly Disappointments in Your Equipment Search
Most listings are legitimate, but you should still take steps to shop safely online. Always:
Verify that the seller has the right to sell the equipment. (Ask for proof of ownership, like a copy of the original invoice or bill of sale.)
Check that there are no liens on the equipment. If you are leasing, we'll check for you.
Get as much information about the equipment's history as you can, so you know what condition it's in.
Decide if you can trust the seller. If something feels off, follow your gut instinct and move on.
Get Your Equipment with Private Sale Leasing
A lot of businesses miss out on the leasing advantage because they don't know you can get lease financing for a private sale. Don't make this mistake!
It's easy to lease private sale equipment. Then you'll enjoy the leasing advantage: lower upfront costs, less paperwork than a loan, and equipment that pays for itself while you work.
The process is the same whether you find your equipment online (Kijiji, Equipment Trader, Facebook Marketplace, etc.) or through someone you know. The 4 simple steps are:
Get your monthly payment estimate based on the equipment cost.
If the estimate works for you, apply online. You'll need some basic details about the equipment and your business to apply.
Submit your documents. Be prepared with a few recent bank statements and your most recent tax return.
Get approved and close the deal. After you're approved, let the seller know you've got financing and send the invoice to the leasing company.
Choose Used Equipment Leasing from Thomcat
Small businesses like yours have teamed up with Thomcat Leasing since 1989. We love making deals for older equipment – just tell us what you need and we'll find the best way to make it happen.
Start today with a quick lease estimate!