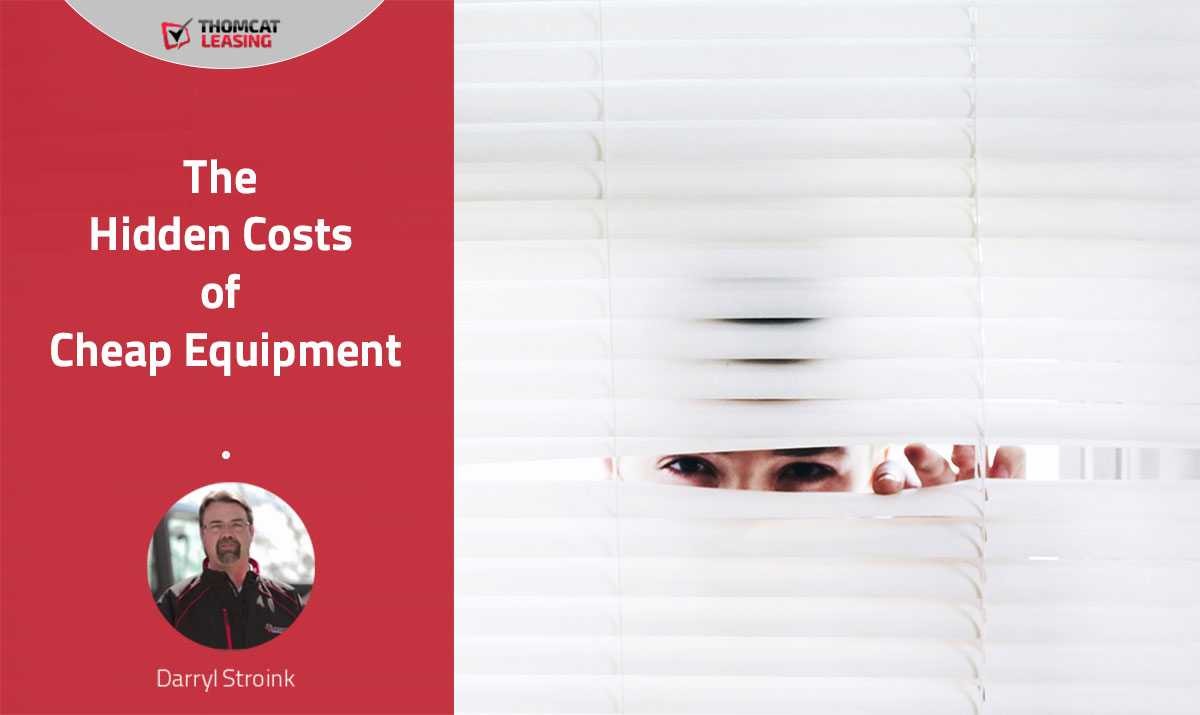 Buy Smarter by Calculating Equipment Operating Costs
We all like a good deal and, as business owners, we all need to watch the bottom line. It's tempting to look at the equipment's price first and its specs/maintenance records/user rating second – if at all. But this can be a costly mistake.
The real cost of a piece of equipment can only be calculated once you include the actual operating costs. The dent in your cashflow when you purchase is only the first of many costs associated with owning heavy equipment. Labour, maintenance, efficiency and downtime are all business costs too. If you get a "deal" on a cheap machine, but it is less efficient to run, breaks down more often and requires more expensive parts, is it really saving your business money?
Low prices do not always mean a better deal.
You get what you pay for and, in most cases, there is a reason why cheaper machines are cheap. The equipment brands that hold their value do so because they have proven their long-term worth.
Before you take on a new piece of equipment, there are three questions you need to ask.

What is the Machine's Track Record for Maintenance & Reliability?
As well as being a headache, maintenance is expensive. Parts and labour add up. Unexpected, enforced downtime can mean missed deadlines and a poor reputation for your business.
Older machines will need more maintenance than newer machines.
A piece of equipment working outside its recommended usage will require more maintenance.
Lower quality brands require more maintenance.
You get the picture. Do your research and include a realistic assessment of maintenance costs in your overall price tag. Operating costs should be calculated to include monthly and yearly basic maintenance, parts and labour for repairs and downtime costs to your business.

Is this Machine the Most Efficient for the Job?
Time is valuable. Time wasted through smaller payloads, lack of technology and equipment poorly matched to the work means lower earning potential for your business. If you are hiring someone else to operate the machine, the costs involved get even more obvious. Don't be pennywise and pound foolish when it comes to equipment purchases.
It's important to look at both productivity and uptime when calculating overall efficiency.
Productivity
An excavator with a 10% larger tonne capacity means 10% less time spent on each job and 10% more earning capacity. That leads to a significantly higher bottom line over the course of a year.
Uptime
Seems obvious, but your equipment is only worth the money invested in it when it's on the job. Anytime your equipment is pulled off the job for maintenance or breakdowns, that machine is not adding to your profit margin – and in fact may be costing you. Is this machine going to put in the hours necessary to make it a good investment?

Does this Machine do Quality Work?
Equipment manufacturers spend money and time every year making their products better– faster, safer and more user friendly. New models incorporate the latest technological advances and adapt to a changing market. So, while an old model may get the job done, you need to ask yourself if the machine will get the job done well? Or will you be paying in loss of productivity, downtime for maintenance and an inferior result on the job. By using the best machine you can afford, you increase efficiency, expand your capabilities and look more professional doing it.

How to Afford the Right Machine for the Job?
It's good business to invest in the right machine for the job. But what if your business simply doesn't have the cash on hand to buy the best? We've all been there. Luckily there are financing options, like equipment leasing, that can help.
Leasing your heavy equipment breaks up the cost into manageable monthly chunks and puts top quality equipment within your reach. A good leasing company will work with you to find a payment plan that takes into account your business's slow seasons and unique needs.
Getting the right equipment for the job leads to substantial operational savings. Often these savings far outweigh the lease payments, meaning you make money over the long run AND have a better piece of equipment. That's money well spent.

Find Out if Equipment Leasing can Benefit Your Business
Get a quick and easy payment estimate with Thomcat Leasing's 60 Second Lease Estimate calculator. See for yourself how affordable equipment leasing could be to your business. No high-pressure sales, no red tape, no obligations – just the best leasing rates in Canada.