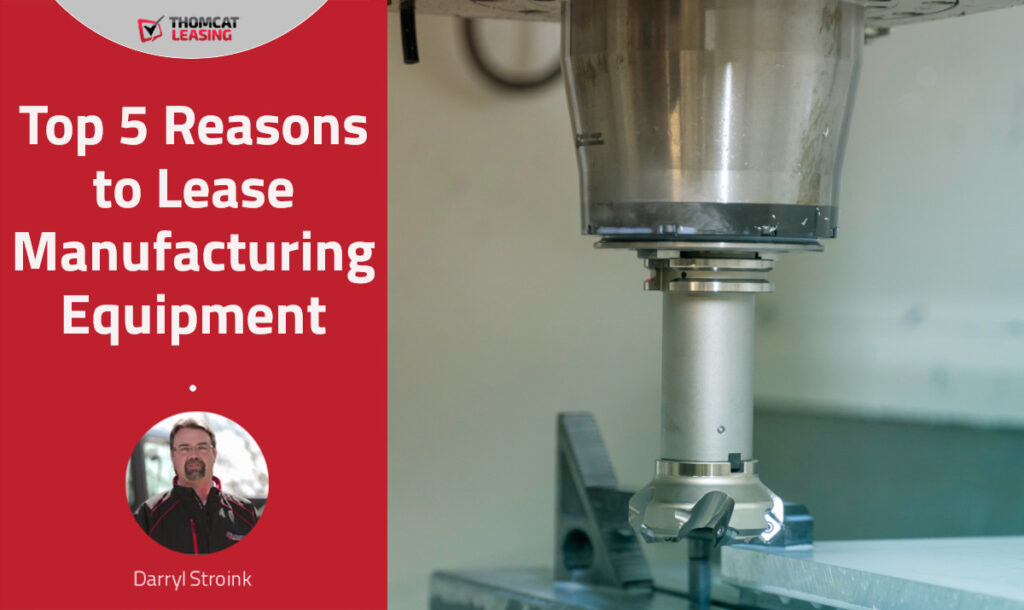 Choose Leasing for Speed, Flexibility, and Buying Power
Equipment leasing is a great choice for your manufacturing business. If you want to grow quickly, spread out your costs, or keep your equipment up to date, leasing has the options for you!

Fast Approvals
Leasing applications require less paperwork and are normally much quicker to process than loans. To apply, you'll only need to complete one form with some basic information about you, your business, and the equipment you want to lease.

Increased Buying Power
Leasing lowers your upfront costs, as most lease deals use the equipment as collateral and don't require a down payment. This means you don't have to sacrifice cash you need for your other operating costs.
Lower upfront costs also lead to increased buying power. Choose the manufacturing equipment with the features you really need, and don't settle for less.

Pays for Itself
Use your leased equipment to fill more orders so it pays for itself. If you know a new piece of machinery will let you earn more money, then leasing is a great way to get it fast.
First work out how much more your business could earn each month with the new equipment. Then get a free, no-obligation lease estimate to see what your monthly payments would be. If the math checks out, apply for a lease!

Quickly Scale Up Production
Minimal paperwork and faster turnaround times than a bank loan mean you can scale up quickly with equipment leasing. It's also more flexible for short-term changes in scale.
For equipment you want to keep long term, choose the lease-to-own option that suits you best.
If you're not going to need a manufacturing machine for the long-term, you can choose an end-of-lease option where you return the equipment. Then you won't need to worry about reselling the equipment later.

Easy to Upgrade
Upgrading your equipment is a lot easier with leasing than with buying. Find the model that works best for you right now and start a lease with Trade Up as your end of lease option. When your lease ends, you just return the equipment and start a new lease with a new model.

Are You a Manufacturer That's Ready to Produce Great Results with Leasing?
Finance your manufacturing equipment lease with Thomcat Leasing. Find what you need – new or used – online, at a dealership, or at auction. Then get in touch to find out how affordable leasing can be.
Tell us what you need and we'll give you a monthly payment estimate in 60 seconds!