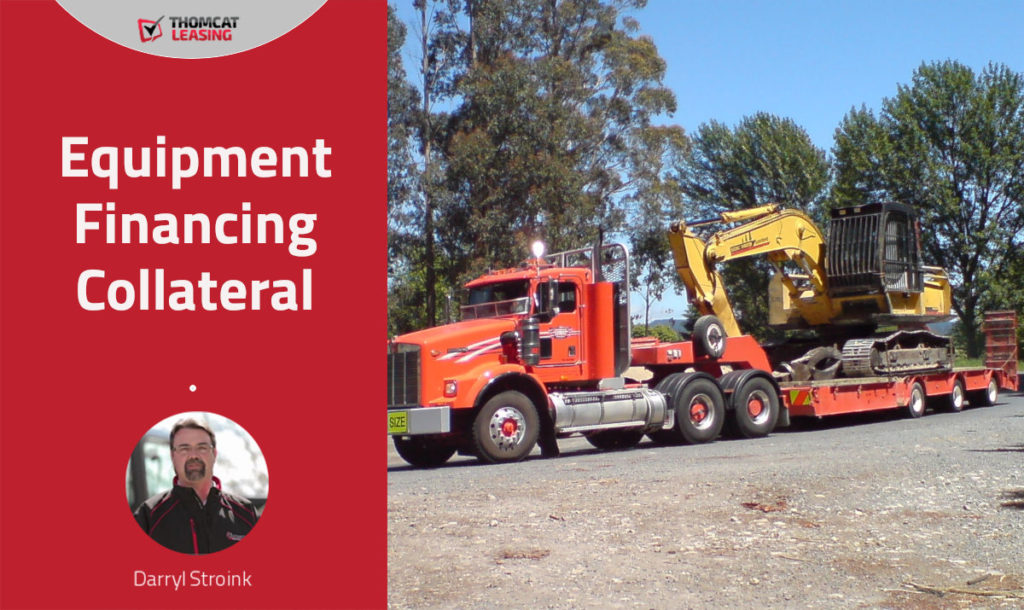 What is Collateral? And Why Does it Matter?
Collateral is an asset(s) a lender accepts as security for a loan, finance, or lease. It is something you would commit to guarantee a loan. Almost all equipment, vehicle, or home loans will require some sort of collateral assets.
Loan collateral is purely for the protection of the lender. The lender wants to ensure you will pay for the loan or lease they are providing to you. Thus, if you default on your payments, it is possible that the lender may attempt to repossess an asset or put a lien on it.
The more confidence you can give the lender in your ability to pay back the loan, the more likely you will get approved with better terms.
So how does collateral work in equipment financing and equipment leasing? Let's explore…

Let's Talk About Collateral in Equipment Financing and Equipment Leasing
When it comes to equipment purchase financing, you have two options: 1. Leasing or 2. Financing (bank loan).
Equipment Leasing
Equipment leasing is great because it requires much less guarantees. The collateral is usually the piece of equipment you purchase. Meaning, if you default on the lease, the equipment is repossessed (or a lien is placed on it) – but no other assets of yours are taken. As well, a lease (usually) does not count against your total debt limits. As the equipment technically doesn't belong to you until you've finished your lease-to-own term. Thus giving you more financial lending options in the future should you need it.
Equipment Financing
Equipment financing or cash loan (usually through a bank) often requires more collateral than just the equipment being purchased. This may include your home or other business assets. This means you need to provide the bank a much higher confidence in your ability to pay for the financing. Sometimes the collateral can outweigh the actual cost of the loan – which will put you at a significant disadvantage should anything go wrong.
Both equipment leasing and financing offer good interest rates. In fact, the rates are closer than you might think! However, due to more stringent collateral needs, bank loans are often much more difficult to qualify for.

Securing Your Future
The truth is that if you run a large corporation with many assets and vast credit, then bank financing might work for you. Your average Canadian small business can benefit a lot from equipment leasing though.
Most business owners don't plan on defaulting on their loans. It's just something that happens unexpectedly when the market shifts or contracts don't come through. This is where your risk mitigation planning will become important.
You're no stranger to the ups and downs of owning your own small business. Both emotional and financial. The less you risk, the better you handle change. That's where equipment leasing really shines: should the unexpected happen, you don't lose other assets or even your home!

The Right Loan to Grow Your Business While Protecting It
Equipment leasing affords you the flexibility to recover from the unexpected. At essentially the same rates as financing!
Enjoy significantly lower stress at comparable payments. The entire Thomcat Leasing process is built with Canadian small businesses in mind. Easy paperwork, low rates, flexible terms, and minimal risk to your business.
Sounds pretty good right? See for yourself how affordable your next equipment purchase could be. Get a free lease payment estimate now!