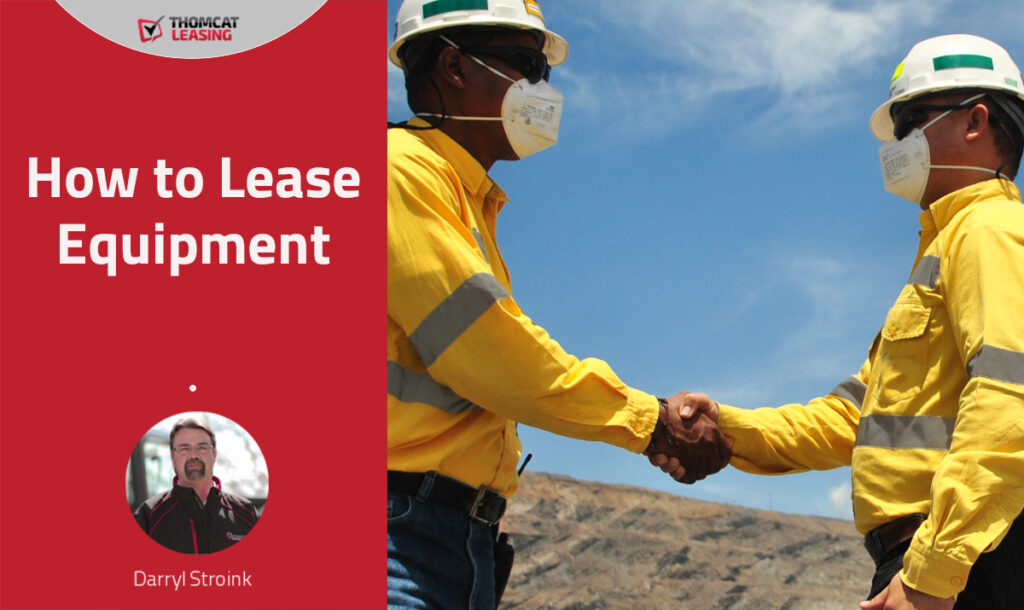 Make Business Equipment Leasing Work for You
Leasing is a great way for you to get the business equipment you need faster and with lower upfront costs than buying. Find out more about what equipment leasing is, how it works, and what to expect if you decide you want to apply for a lease.

What is Equipment Leasing?
Leasing is an arrangement where a business gets machinery, vehicles, or other valuable equipment and uses them for a period of time in exchange for monthly payments.

How Does Equipment Leasing Work?
A business (lessee) leases equipment from an owner (lessor) for a set time. The lessee gets to use the equipment as soon as the lease starts. At the end of the lease, the equipment is returned to the lessor, unless the lease includes an ownership option (lease-to-own).
The cost of the lease, interest, and fees are broken down into monthly payments. The monthly payments could all be a flat rate, or the lease could be structured so that payments match the seasons, increase over time, or start several months after the beginning of the lease.

When Should You Choose Equipment Leasing?
Here are some cases where leasing is a good choice:
You need full time equipment but can't afford it up front
You like to upgrade your equipment every 2-5 years
You want your equipment payments to be a regular tax write off
The Equipment Leasing Process
You can expect these steps in the leasing process:
Find your equipment
Calculate additional costs
Get lease payment estimates
Apply for a lease
Submit financial documents
Close the deal
Get your equipment
Buyout options
Find Your Equipment
Figure out what your business needs then shop around until you find the right model and price. Remember that you can lease new or used equipment from dealers, auctions, or private sales.
Calculate Additional Costs
Now it's time to figure out all your additional costs like inspection, shipping, customs, taxes, etc. A good leasing company will roll these costs into the lease deal. They'll be spread out over the whole term of the lease like the other costs.
Get Lease Payment Quotes
Now that you know your costs, gather some estimates from different leasing companies. It's easy and quick to get a quote online with just the basic information about the equipment you want.
Apply for an Equipment Lease
When you are ready to make a purchase, either from a dealership, private seller, or auction – it's time to apply for your equipment lease. Pre-approval will help you look like a good buyer if you're shopping online or at an auction.
Submit Your Documents
Leasing applications require less paperwork than a bank loan, but you may need to provide some financial documents. Prepare your documents ahead of time to keep things moving along.
You'll need to demonstrate your net worth (assets and liabilities) to complete some leasing applications. Be ready with recent bank statements and your most recent tax return.
Close the Deal
Buy your equipment! Let the seller know that you have financing. Send the invoice to the lessor so they can pay the seller. At this point you'll make your first lease payment unless you arranged otherwise in your lease deal.
Get to Work
Once you have your equipment, you can really make leasing pay off. Put your machinery to work so it pays for itself.
Buyout Options
When you're getting close to the end of a lease-to-own agreement, you will have a buyout option. This means you can make a single payment that gives you ownership of the equipment and ends the lease. Be sure to explore all of your end-of-lease options, before you sign for your lease.

Is Equipment Leasing Right for Your Business?
Leasing can be a powerful tool to boost your business, as long as it's the right tool for the job. If you think leasing could be a good match for your goals, it pays to talk it over with a professional.
Thomcat Leasing has been making deals to help Canadian small businesses since 1989. Our leasing experts would be happy to talk about your equipment leasing options and help you decide if leasing is your best option. Give us a call at 1-877-846-6228.
Already have some equipment in mind? Get a lease payment estimate in just 60 seconds!