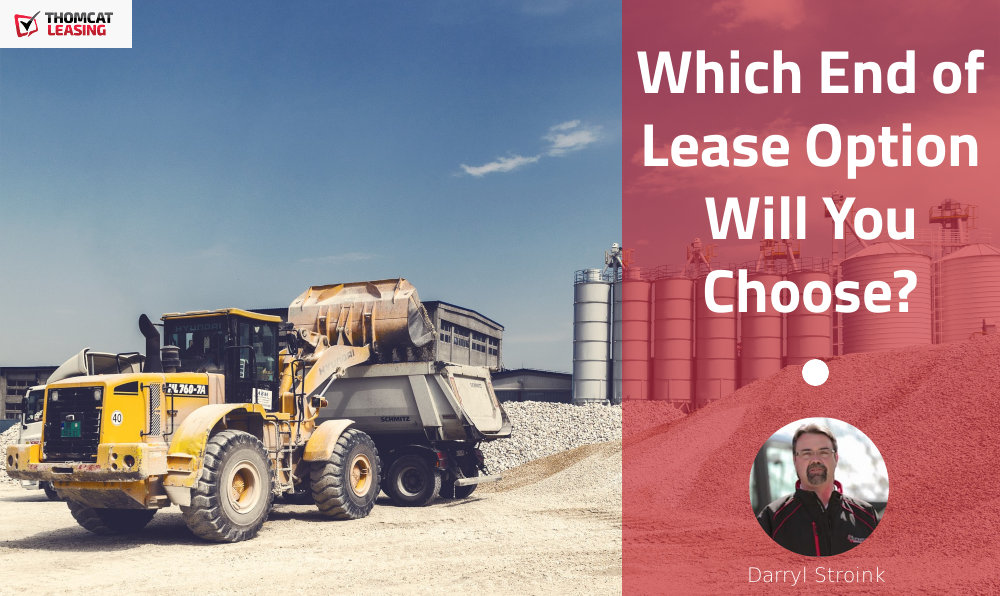 Get a Happy Ending for Your Equipment Lease
Are you looking into leasing a piece of equipment? Before you sign on the dotted line, make sure you understand your end of lease options!
Knowing the pros and cons of each end of lease option will allow you to make an informed choice in your equipment leasing decisions– saving you time, money, and hassle. This article will take you through the four most common end of lease arrangements. It will provide you with the information you need to ask the right questions of your lease broker and secure the right equipment lease for your unique needs.
Your end of lease options can be broken down into four distinct categories: Purchase (Lease to own), Trade Up, Continuing Rental, and Equipment Return.
Purchase – Lease to Own
Purchase is the most common end of lease option available. At the end of the stated lease term your business buys the leased piece of equipment outright using one of the following formulas:
Fair Market Value (FMV): You purchase the equipment for its assessed market value at the end of your lease term. This option comes with the lowest monthly payments of any purchase agreement, meaning you will have paid less for your lease over the course of the term, but the cost of buyout is the highest.
10% Buyout: You pay 10% of the original lease amount for the equipment. This option allows for reasonably low monthly payments, while still keeping the cost of buy-out to a minimum. It is the most popular of the Purchase options.
$10 Buyout: You purchase the equipment at end of lease for just $10. However, your monthly payments throughout the term of the lease will be higher.
Purchase, or Lease to Own, is a great option if you see your business needing the equipment long-term, but don't want to carry a lease forever. Buying your leased equipment means getting a good price on a known machine—you will be familiar with the equipment's history, hours, and maintenance records.
Trade Up
The second option is Trade Up. If your business requires frequent equipment upgrades, this might be the best option for you.
At the end of lease, you have the option to trade in your existing equipment for a newer model. Lease payments will continue at a similar monthly rate and you will have use of a new piece of equipment without hassle or huge upfront costs.
Consider Trade Up if you work with equipment that ages quickly or in a field that frequently requires new technology. This option allows you to shift the hassle of selling outdated equipment on to your leasing company.
Continuing Rental
If you choose Continuing Rental, your lease agreement legally becomes a rental agreement with the same monthly payments and the same equipment. This option works well if you have a set monthly budget for equipment costs. Commonly used by government organizations and large corporations, this option allows for consistent payments and provides the tax benefit of keeping capital assets off your books. Note that rental payments will not reduce the buyout price if you should decide to purchase the equipment later on.
Equipment Return
At the end of your lease period, you may simply choose to return your equipment to the leasing company. If your business only needs the equipment for a set term, and the equipment is in good working order, this can be a convenient and hassle-free option.
This option is rarely selected. If you think equipment return is right for you, be sure to discuss it first with your equipment lease broker.
Get the power of a custom equipment lease working for you!
Don't let one-size-fits-all lease options limit your business's potential. At Thomcat Leasing we have years of experience helping small businesses maximize their lease options (since 1989). We're a Canadian company with a stellar track record of affordability, flexibility, and knowledgeable customer service.
Discover for yourself how affordable equipment leasing can be for your business. Complete a FREE 60 second lease estimate right now!