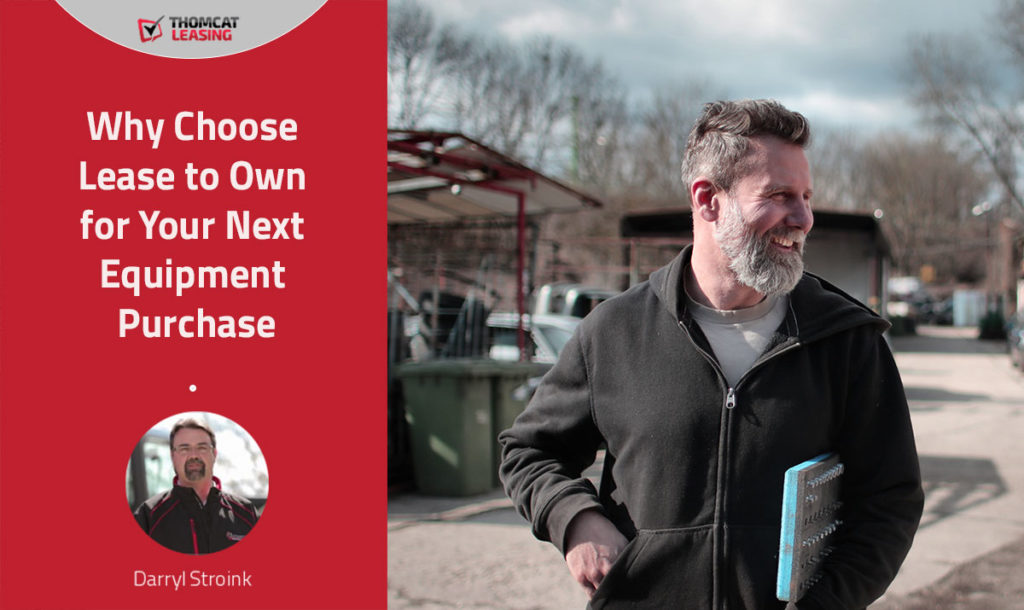 Understanding the Pros and Cons of this Popular Financing Option
In the market for new or used equipment? Maybe your business is in a growth cycle, changing strategies or replacing equipment that is past its prime.
Whatever the reason, you're likely thinking about financing. Should you lease or buy? What financing strategy will prove most affordable—and help you stay flexible for the future?
Getting a clear picture starts with comparing the two basic financing types. Leases and loans both have a lot to offer. You can optimize your return on investment by identifying the format that best suits your business needs.

Loans:
Higher up-front costs.
Slower turnaround—a couple weeks to a month and higher amounts of paperwork.
Equipment becomes a capital asset right away.
Usually requires additional collateral.
Monthly payments are not flexible.
Maintenance, repair and resale are your responsibility out of the gate.
Loans may be a better option if you have plenty of working capital for a down payment, a great credit rating with lots of available collateral, and plan to use the equipment long term.

Leases:
Lower up-front costs.
Fast turnaround—typically within a day or two and minimal paperwork.
Equipment is a business expense for the duration of the lease.
Equipment is collateral.
Payments can be scheduled to reflect cyclical downtimes. For example, suspending payments during the winter.
Maintenance, repair and resale can be outsourced.
Leases are a better option if your available cash is limited, your business is changing rapidly, your equipment needs are short term or if you anticipate needing to upgrade.

The Bottom Line
Getting the right equipment for your business should not leave your pockets empty. Regardless of how you finance it, your investment needs to carry its own weight— the sooner the better.
Leasing breaks down the cost of the asset into affordable monthly payments—and does so without the substantial upfront costs of a loan. In most cases, the income generated by the asset exceeds the monthly lease payment. Done right, your equipment is paying for itself.
That is the key to leasing's popularity.
Lease to own financing can be viewed as a hybrid between buying and leasing. Like a traditional loan you are paying off the cost of your equipment in small chunks over time. Like a traditional lease you are able to avoid hefty up-front costs and choose a flexible payment plan. Your new equipment is paid off over a 2-5 year term as your business benefits from its income generating potential.

End of Lease Options
So far so good. As you reach the end of your lease term you will have the option to purchase your equipment and own it outright.
The end of lease agreement you chose at the start of the lease will determine how that purchase is made.
$10 Buyout Lease Agreements – Higher payments over the lease term mean a minimal buyout cost at the end. You are essentially using your lease to finance the purchase of your equipment – with the added lease benefits of low upfront costs and minimal paperwork.
10% Buyout Lease Agreements – Mid-size payments and a smaller outlay (10% of fair market value) at the end of the lease term.
Fair Market Value Lease Agreements – The lowest monthly payments, while still giving you the option to own your equipment outright at the end of term.
When determining the best end of lease agreement for your business it's important to consider your business's cash flow, how long you expect to use the equipment, the equipment's typical life span and future demands on your business capital.
Lease to own is a powerful financing tool and one that is well worth considering for your next equipment purchase.

Want to get lease to own financing working for your business?
You've come to the right place. At Thomcat Leasing we're all about making financing work for Canadian businesses. As lease brokers we're working on your side — not for the banks.
We have the contacts and expertise to get you the best rates and our personal, friendly service will ensure you're looked after. Give us a call today or try our online 60 second lease estimate and see how affordable a good lease can be!