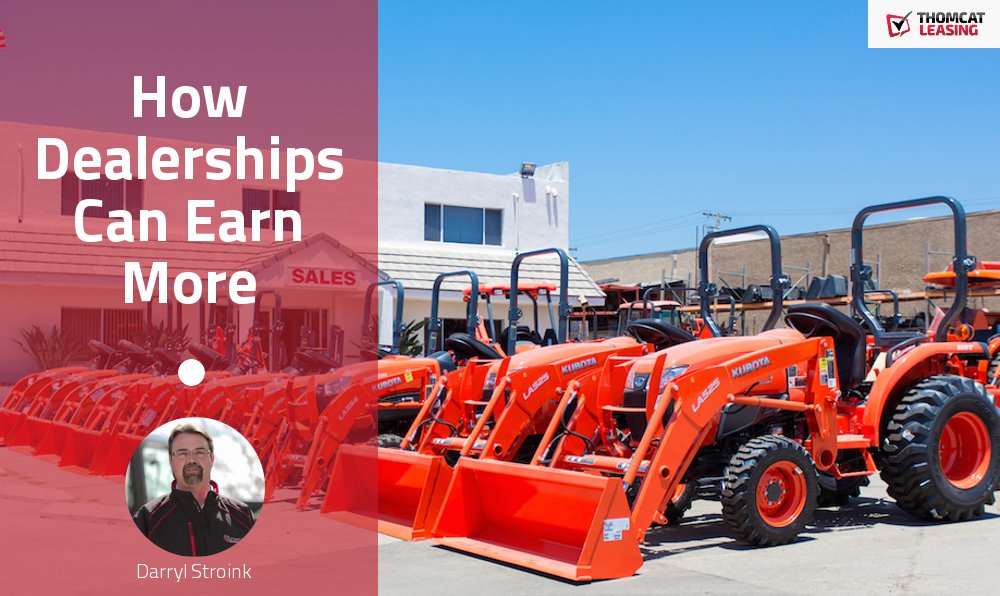 Why You Should Offer Customers a Leasing Option
Purchasing heavy equipment can be quite expensive for buyers. Many of your customers run small businesses and are trying to compete with large companies in the industry. Help your customers get what they need, without breaking their bank account (or yours).
You can get rid of the sticker shock – without lowering your fair prices!
How?
By partnering with an equipment leasing company like Thomcat Leasing.
Here are the ways leasing can help you and your customers:
Your Customers Retain Their Capital
Capital is an important aspect of any business whether large or small. When you give your customers leasing solutions, you will help them retain capital for things like payroll, raw materials, maintenance, and purchasing other equipment.
By breaking total costs into small regular payments, customers will be in a better position to lease equipment with the right features for their job. Possibly machines they couldn't buy on capital alone. The customers will have a better piece of equipment to run their business and your dealership will have more profit.
Referrals
Happy customers tell people about their experience. Of course referrals are core to your business success.
Part of a positive customer experience is the speed at which you operate. Banks can take days or even weeks to approve financing of a customers purchase. Leasing approval can take as little as 10 minutes. Imagine that, while your customer is sitting in the office, they're already getting the lease approved. No more sending people away empty handed while you wait for approval.
Keep your customers engaged and excited, and you'll surely deliver a positive buying experience.
You already know that leads to more business.
Unlock New Customer Markets
If you're not already offering a lease solution, you are missing out on potential customers.
Many customers today are searching for a financing solution along with their equipment. By posting a monthly lease payment, you'll instantly get their attention. Simply offering a lease option could increase sales 8-12%.
A whole new market segment will open to you!
Recurring Business
Leasing terms last for a short 2 to 5 years. When their equipment lease is paid, they are likely going to want to upgrade equipment or obtain a newer model.
And because of your great customer service and experience they are most likely to come back to you first.
Not too mention that anyone who is leasing has the option to upgrade their equipment at any time. If better equipment becomes available for your customers, it doesn't hurt to check if they'd be interested in upgrading for essentially the same costs they are already covering today.
Start Benefiting from an Equipment Lease Vendor Program
Equipment leasing is a recipe for your success. Leasing helps you:
retain customer capital
increase customer satisfaction
capture new markets
create recurring business
Get started by partnering with Thomcat Leasing. An industry leading lease broker that works for you and your customers' benefit. Their vendor lease program is completely free, so it doesn't hurt to give it a shot. Create your free vendor profile with Thomcat Leasing today!