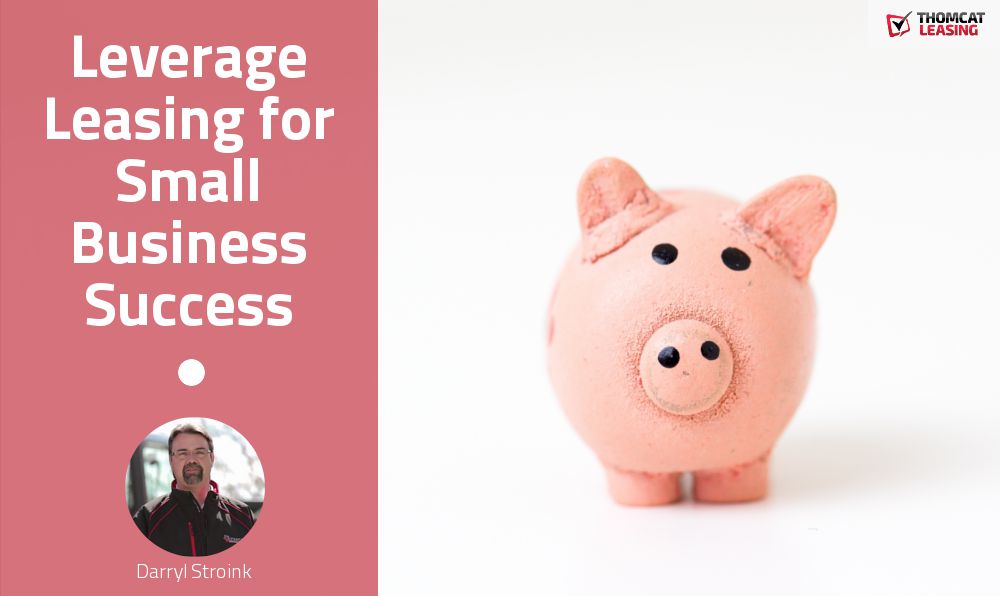 Growing Your Business? Here Are a Few Insider Secrets
So you've decided to expand your small business, but you don't have much capital?
Don't throw in the towel just yet.
Here are four ways you can leverage leasing your equipment to make your business a million dollar success.
1. Grow Your Business Faster
Many small businesses don't have a lot of capital and, unless you have a rich uncle somewhere who can give you a loan, you might be stuck between a rock and hard place. So what can you do?
Well, you can put everything you have into whichever piece of equipment you think will benefit you the most and hope for the best. Unfortunately, if anything goes wrong, you probably won't have much left to fix it. Not to mention, to be effective and bring in the clientele you need, you're probably going to need more than just one piece of equipment.
If you lease, you won't have to pay large sums of money up front, and you'll be able to afford the variety of equipment you need.
Learn how Chris leveraged leasing his equipment to grow his business faster:
"Each time I want to branch out and take on different jobs I am not restricted due to the fact that I can get the equipment I need by leasing it."
https://thomcatleasing.ca/2015/05/26/building-a-multi-million-dollar-construction-company-through-equipment-leasing-and-hard-work/
2. Make Your Business Bigger Fast
Another benefit to saving that upfront capital by leasing is that you can then put it towards projects that would have otherwise had to wait. It's a competitive market, and as a small business you will most likely be competing against other, more established businesses.
Whatever you can do to make yourself more competitive, the sooner you can start taking over the market.
Check out Gwen's story to see how she used leasing to get her projects done before she'd planned:
"Because we had chosen to lease our heavy equipment we saved quite a bit of capital investment and were able to leverage that capital to complete some of the projects ahead of schedule."
https://thomcatleasing.ca/2014/12/23/building-care-facility-power-equipment-leasing/
3. Earn Money From Your Equipment While You're Paying for it
Rather than pay large sums of money upfront, why not pay for your equipment with the money it makes you? Often it will garner more money each month than it costs in payments. This way, you won't need to dip into your funds to pay for your equipment.
Read Jacob's story of how he leveraged leasing his equipment to make it work for him.
"It just makes business sense that my equipment can make me money while I slowly pay for it."
https://thomcatleasing.ca/2015/08/28/how-entrepreneurs-turn-a-little-bit-into-alot/
4. Lower Your Risk
One of the best benefits to leasing is that it lowers your risk, which, as a small business owner, is already substantial. Because your lease is secured to the equipment and not your own personal wealth, your risk is minimized. Rather than putting up all of the capital yourself, you'll still have money in the bank in case something goes wrong or to further grow your business.
Click below to find out how Lynne leased her equipment to create a successful fitness business all the while lowering the risk she placed on herself.
"For me, the best option was an equipment lease for one simple reason: I could push off the risk of putting up all the capital. Instead, the lease was secured to the equipment and not my personal wealth."
https://thomcatleasing.ca/2014/10/17/important-things-learned-about-business-lynne-story/
Talk to Us Today
You've been dreaming about it for years. Are you ready to take that step into growing your business? Now that you know how to leverage leasing your equipment to get your business growing bigger, faster, and with smaller risk, you need to know who to turn to.
Check out Thomcat Leasing: With affordable rates, flexible plans, and no expensive upfront costs, you'll be able to grow your small business sooner than you thought and with far less risk to you!
See for yourself how affordable leasing can be with our 60 second lease estimate tool: