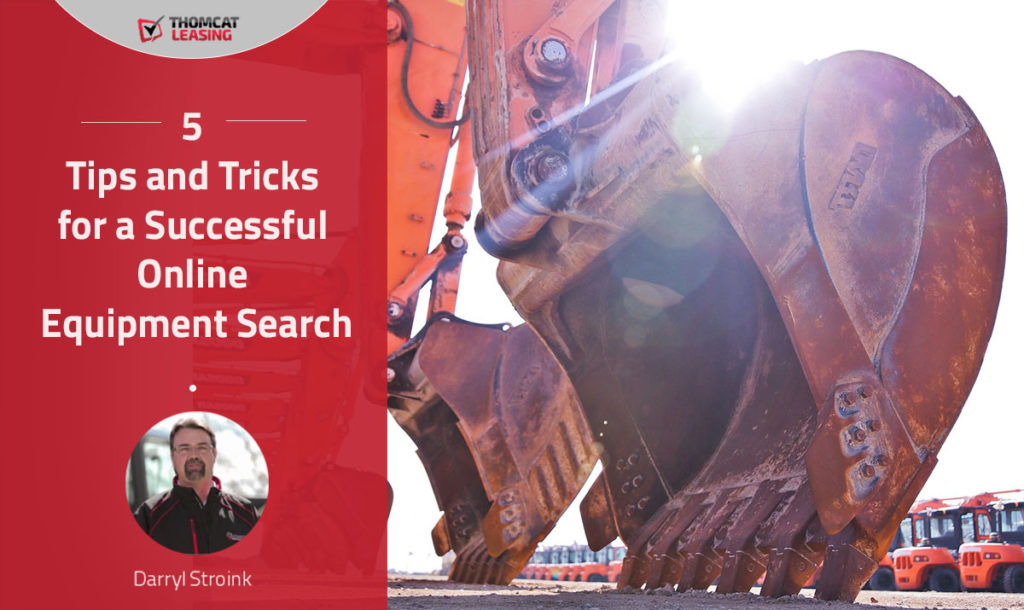 How to Minimize Hassle and Find the Best Equipment for Your Business
More than ever before, businesses are moving online to buy and sell equipment.
Equipment sale aggregator websites offer a truly staggering inventory of new and pre-owned equipment—and that is great news for small business. But buying online is not always smooth sailing. Anyone who has tried it knows finding what you need can be a real challenge. Too often searches deliver a stack of irrelevant listings, poor condition equipment, overpriced assets—or no matches at all.
The good news is that searching for quality used equipment does not have to be a frustrating experience. In this article, we offer five tips designed to help you search smarter, cut the clutter and achieve a successful online equipment purchase.

1) Search like a pro
Most equipment sites have hundreds, if not thousands, of listings. Find what you're looking for with a minimum of hassle by making your search terms as specific as possible. Many sites have advanced filter functions that allow you to screen results by a variety of factors –geographic area, images, meter readout, axle configuration, type of cabin, etc…
If you are not sure yet what make and model of machine you're looking for, but know what specs are important to you, filters can be a great way to pinpoint search results.
If you are using a site with less robust filter capabilities, using search terms called "operators" are a good way to sort your results.
For example, if you only want to see the listings for Peterbilt and Mack trucks, you can avoid doing two separate searches by typing in "Peterbilt OR Mack trucks" and viewing the relevant listings simultaneously.
The AND operator works similarly, but only shows you results where both keywords are present. For example, you want to see all the listings for towable air compressors with a Kubota engine, so you search "towable air compressor AND Kubota". This narrows your results to only the listings where both words are present – and eliminates all the other listings that mention Kubota.
The hyphen or minus sign is useful if you want to remove results with a certain term. "Case backhoe -repair" will eliminate all listings that mention "repair".
Don't find what you're looking for at the first site? Look elsewhere. There will be some overlap between sites, but each site has listings unique to that site. Putting in the extra time on multiple sites can be the difference between success and failure.

3) Don't be blinded by price tag
It's easy to develop tunnel vision when shopping online. Filtering for price makes it tempting to ignore other important factors, such as suitability, condition and overall value.
The least expensive machine your search turns up may not be the best buy because of its hidden costs. Don't lose sight of the bigger picture.
Cost is a huge consideration, but other factors can play a far larger role in the value you will get out of the equipment over time.
Do your research before you hit the market and shop armed with a clear idea of what you're looking for:
Is this equipment the best fit for my application?
Does the manufacturer have a good reputation in the industry for durability, replacement parts and customer service?
Is there any warranty offered/remaining?
Is the seller easy to work with?
Can the seller provide maintenance records?
All these factors are important and make the difference between a short term "good deal" and a long-term good value.

4) Search widely
It can happen that the equipment you need is just not available in your local area. If you are using the best sites and clear search terms, but still not finding what you are looking for, the answer may be that your search area is too small.
Many buyers get cold feet once shipping and freight costs enter the picture, but this may be a sign of short-term thinking. If those transport costs enable you to purchase a machine that is a better fit and in better condition, you will likely see a cost savings in the long term.
You shouldn't be swayed by equipment out of your local area. Look outside of the province. Or even look outside of the country! If the perfect asset for your business is somewhere in North America, it's probably worth the shipping costs to get it to your door.
It is also worth noting that the cost of shipping, inspections, and customs can be rolled into your monthly payments if you choose an equipment lease.

5) Consider leasing
Lease to own financing can be a great way to make your purchase affordable and increase your purchasing power. A lease allows you to break all purchase costs down into low flexible payments and amortize costs over 3-5 years. With this financing structure you are able to see an immediate return on investment – that new equipment is literally paying for itself. Your cash on hand is unaffected and your business remains financially flexible.
Find Out How Leasing Can Benefit Your Business?
For the last 30 years Thomcat Leasing has been helping small and mid-size businesses get the equipment they need, at rates they can afford. Many leases require little or no down payment, enable you to roll shipping and purchase costs into your monthly payments, and offer flexible payment terms. Leasing will also protect you from fraud that is common in online purchasing.
See for yourself how affordable your next equipment purchase could be. Try our free, no-obligation, 60 second lease estimate today!
Simple Leasing Guide
Learn more about how you can get the leasing advantage in our small business leasing guide. We'll cover everything you need to know to get the right equipment at a great rate!