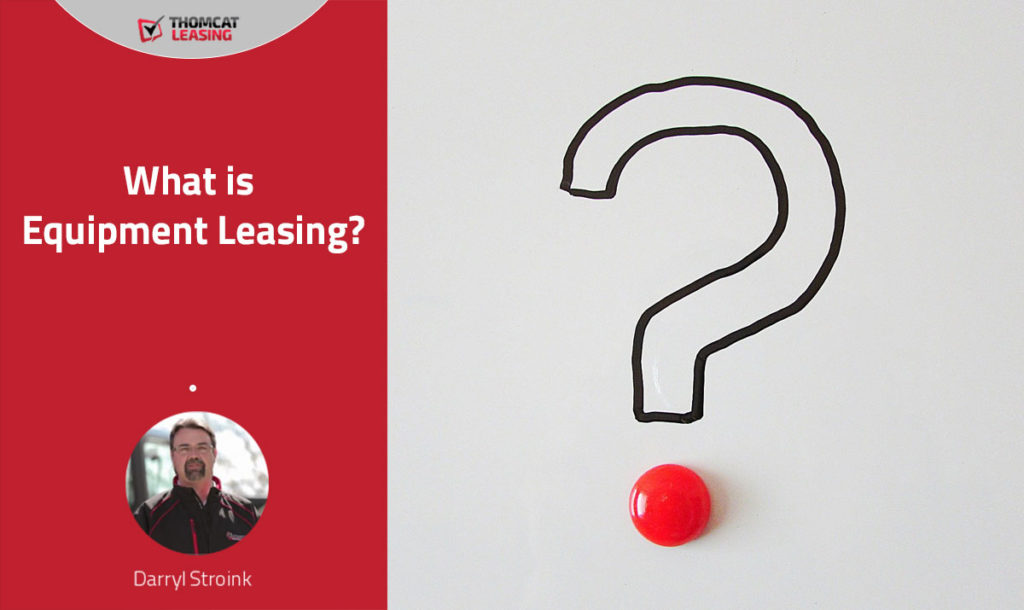 Answers to Your Questions About this Common Form of Business Financing
Equipment leasing is a financing agreement in which business equipment is purchased by a leasing company (lessor) and rented back to the business owner (lessee) for a prearranged length of time at a flat monthly fee. At the end of the lease term, the lessee may either buy out their lease for $10 or 10% determined at the start of the lease, trade up for a newer model, or close the lease by returning the equipment.

What are the advantages of equipment leasing?
Low upfront costs
Flexible payment terms
100% of the payments are tax write-offs
Fast approvals and minimal paperwork
Greater purchasing power
Easy upgrades and replacements
Can I lease used or secondhand equipment?
Yes. Leasing can be arranged for almost any business equipment. There may be eligibility restrictions on the age of the used equipment.

What are the upfront costs of an equipment lease?
Leasing rarely requires a down payment but will likely require a monthly payment in advance. Most leasing companies also charge processing fees. These can vary substantially, so it pays to shop around.

Can I include inspections, shipping, and customs fees in my equipment lease?
Yes. You can arrange to roll those costs into your monthly lease payments. Be sure to ask as you are setting up your lease.

What are the disadvantages of equipment leasing?
Only applicable to tangible assets
It is interest-based lending
There will be contract stipulations & requirements (compared to buying outright)
Leases are difficult to terminate early
How long does the application and approval process take on an equipment lease?
A lease application and approval can take as little as 10 minutes to a few days. The approval speed depends on the size of your loan, your business's credit history, financial documentation required, and other factors.

Will I own the equipment at the end of my lease term?
Options available at the end of your lease term depend on the type of lease arrangement you choose at the start of the lease. In a lease to own arrangement, you will have the option of buying out your lease and owning the equipment outright.

How does credit history affect lease rates?
A business with good credit can expect lower rates and a quicker approval process. Businesses with poor credit may find it difficult to get approved for a lease and will almost certainly see higher rates.

Does leasing affect my debt load?
Rarely. Leasing is viewed as a business expense and rarely counts toward your debt load. Remember, leasing is essentially a rental agreement – it is not cash financing. Thus, the concept of cash debt is inaccurate. Rather, an equipment lease is secured to the leased asset.

I'm planning to buy my equipment at an auction or online. Do I need to get pre-approved?
It is advantageous in every way to have pre-approval going into an auction. While pre-approval is not mandatory, it can make you a more attractive buyer and increase the likelihood of a successful bid or purchase. Pre-Approval allows you to set your spending limits, complete the auction purchase immediately, and bid as if you had cash.

What is Lease-to-Own?
A lease to own arrangement specifies that at the end of your lease term you will be given the option to buy out your lease and own your asset outright. The cost of the buyout varies from as little as $10 dollars, to 10%, to the fair market value of the leased equipment—with the difference reflected in your monthly payments. Your buyout terms will be set from the beginning so be sure to consider the option you most want before signing a lease agreement.

Want to Find Out if Leasing is Right for Your Business?
We're here to help. Thomcat Leasing has arranged equipment financing for Canadian small businesses since 1989. We work to get you the best rate–without a lot of hassle or paperwork. See how affordable your next purchase could be and request a 60 second lease payment estimate online!