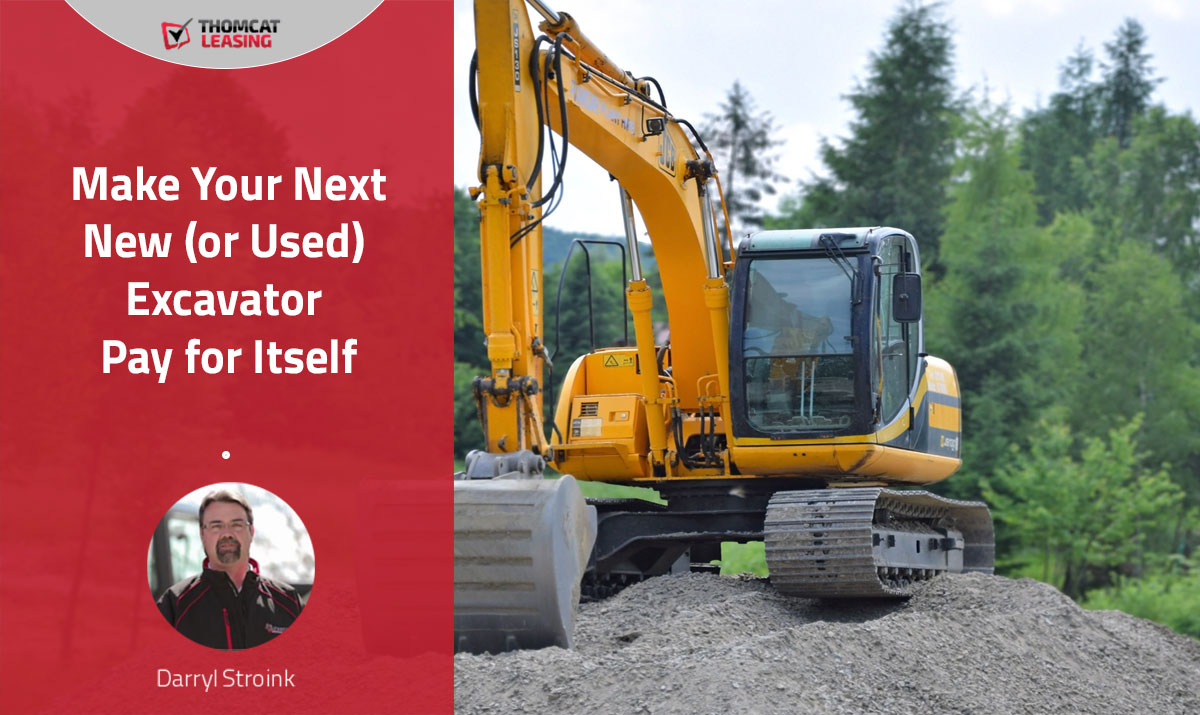 How Lease to Own Financing Can Break the No-Cash = No-Contracts Cycle
Big tools are a big expense.
The costs associated with big ticket equipment like an excavator can be daunting. Sure, the right machine will mean new opportunities, new contracts and a better bottom line. But what if you simply don't have the cash? Without cash you can't get the equipment you need to make cash. It can be a frustrating cycle.
Industry insiders use equipment leasing as a cash-flow work-around. Lease to own financing may seem like a loan, but it is fundamentally different. Leasing puts that machine in your hands with little-to-no cash outlay upfront. You get the full income-earning potential of the equipment, but not the full upfront cost or liabilities.
Let's look at a common scenario:
Your small excavation business is positioning to move into new construction and will need an equipment upgrade. Cash flow is tight and the out-of-pocket costs for the additional excavator would wipe out profit for months, if not years. So, you arrange lease-to-own financing for the purchase through an equipment lease broker. Leasing covers the upfront costs, shipping, transportation and fees–and breaks those costs into manageable monthly payments. You now have the equipment you need to grow your business and bid on new contracts. A month or two goes by, you have a couple successful bids and your cash flow increases. Now you're in a position to cover the monthly lease payment on the excavator and hopefully increase that bottom line. So far, so good. After 2-5 years, depending on the end of lease agreement you choose, you have the option to own the excavator outright.
If your only financing experience has been with bank loans, leasing can be a game changer. Bank loans are tied to fluctuating interest rates, require a down payment, increase your debt load, take a while to clear and require loads of paperwork. Leasing rates are not tied to prime interest rates, so your payments won't change. They rarely require a down payment, come with minimal paperwork and a good brokerage can get you a lease in a matter of hours. Because leases are viewed as a business expense, and not debt, they do not affect your debt ceiling. You can also claim the full amount of your lease payment as a tax write off—as opposed to the interest-only write off available for loans.
Because leasing is done through dedicated brokerages, there is much more flexibility available in payment structures. Say you only expect to use the new excavator over the spring and summer months. With a bank loan you can expect to be paying the same amount all 12 months of the year, but with a lease you can arrange to make your payments only during the 6 months the machine is bringing in income. That means no drain on the finances when it is parked for the winter.
An additional bonus to leasing becomes apparent down the road when that excavator is starting to show its age and newer technology could get the job done faster. If you purchased the machine with cash (or arranged bank financing) you are on your own. You now have to find a way to sell that used equipment and start the buying process over again. With a lease, new equipment is a quick and easy upgrade away.
Leasing offers so many options. It is important to talk over end-of-lease options with your broker when arranging terms at the start of the lease. Know your options and choose whichever one best fits your needs. If you expect to continue using that excavator for many years to come, you may want to choose a fair-market buyout or a $10 buyout at the end of lease. If you don't expect to use it long term, or anticipate needing to upgrade, you may choose to roll the lease over to a new machine or simply walk away at the end of lease. Either way it's pretty simple. No used equipment selling hassle and no penalties.
It's important to note that the lease to own model is not limited to brand new equipment. You can get this kind of financing for any equipment, including used equipment. Purchases through auctions, classifieds and dealerships all qualify. You find the excavator that best fits your business needs and budget and your leasing brokerage does the rest.
Break the No-Cash = No-Contracts Cycle by Leveraging the Power of Lease to Own Financing
Thomcat Leasing is a Canadian industry leader in the world of business equipment financing. We've been finding affordable solutions for small and medium-sized businesses for over 30 years. Our friendly, knowledgeable brokers have the industry contacts to get the job done quickly and find you a great rate–often lower than the banks. Give us a call, drop us an email or try our 60-second, no-obligation payment estimate. Get your business the equipment it needs to succeed today!