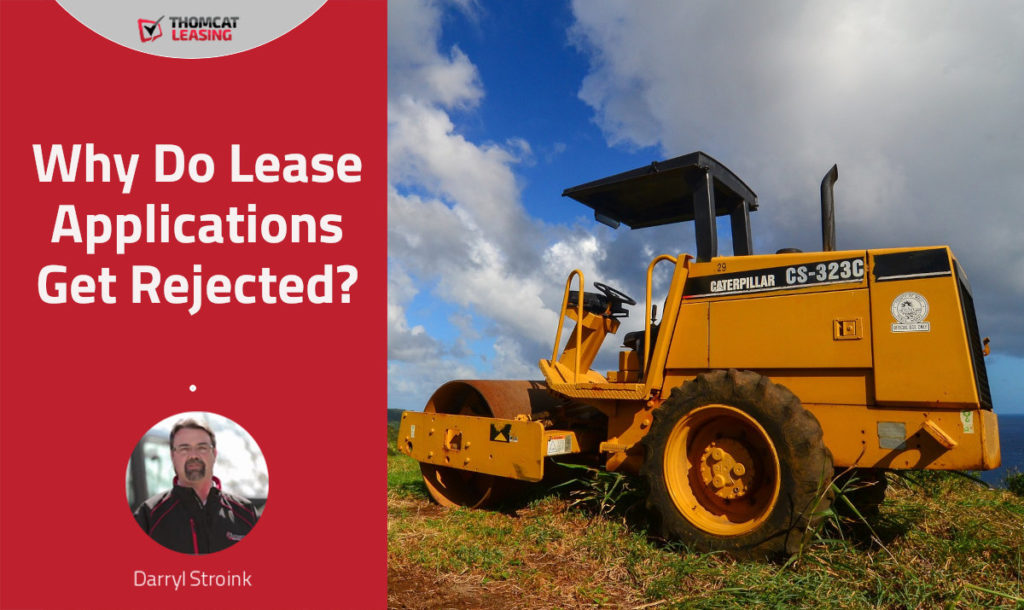 Top Reasons You Didn't Get Approved and What You Can Do about Them
Rejection is frustrating when you're trying to build your business. But it doesn't mean you can never get equipment lease financing. Improve your chances with this short guide.

Poor Credit
Poor credit is a very common reason for rejection. Lenders don't like risk and a low credit score makes them think twice.
Which Credit Scores Matter
If your business is incorporated, focus on your business credit score. If you're a sole proprietor or an unincorporated partnership, then personal credit also comes into play.
Personal credit problems trip up a lot of business owners. The best solution is to separate the two by incorporating your business. If that's not an option for you, then polish your personal credit score.
Lease Financing Credit Breakers
The most serious credit issues take a long time to fix. Your equipment leasing options will be limited if in the last 5 years you or your business:
Filed for bankruptcy
Filed a consumer proposal
Consolidated your debt
Missed payments often
A messy divorce can also have negative impacts on your credit history as your assets get split and your credit score might get reset. Many don't realize that a legal divorce will also impact your ability to borrow.
How to Improve Your Credit Score
Follow these steps to improve your personal or business credit score.
Start by requesting a copy of your credit report from any major credit bureau. Check it over and have the reporting agency correct any errors you find.
Pay off anything you owe to collection agencies with the "pay to delete" option. This means that the negative account will be removed from your credit report.
Increase your available unused credit by
increasing the limits on your credit cards and lines of credit
paying off the balances on them
This raises your score by lowering the "utilization ratio" of your available credit. But it won't work if you max out the new limits, so keep the ratio low.

No Credit History
You might have trouble with credit history if your business is very new. It is more difficult to get an equipment lease in your first 2-3 years of operation.
How to Build Your Business Credit History
This problem takes time to solve. If you've registered your business and got a business credit card or line of credit, then you're off to a great start.
Otherwise, get a business credit card and a line of credit to raise your available credit. This makes it easier to keep a good balance of unused credit and shows lenders you can live within your means.
Get to know your suppliers. Ask them to let you buy on credit. Make sure they report your payment data to credit reporting agencies. Then pay on time to boost your credit score.
Leasing Options without Credit History
You can get lease financing for some types of equipment even without credit history. Focus on equipment with a low cost and a high resale value. Lenders will view it as lower risk.

Poor Asset
A big advantage of leasing is that you usually don't need any collateral besides the leased equipment.
The flipside is that it's harder to get approved for a lease on equipment that's considered a poor asset.
The best assets for leasing have a low cost and a high resale value. As well, equipment that is 10+ years old or has a lot of operating hours logged on it are difficult to lease.
This is easily fixed by finding a better or newer asset.

Ready to Apply?
Apply online today for a fast lease quote from Thomcat Leasing. You can count on us for straight answers and the best rates.