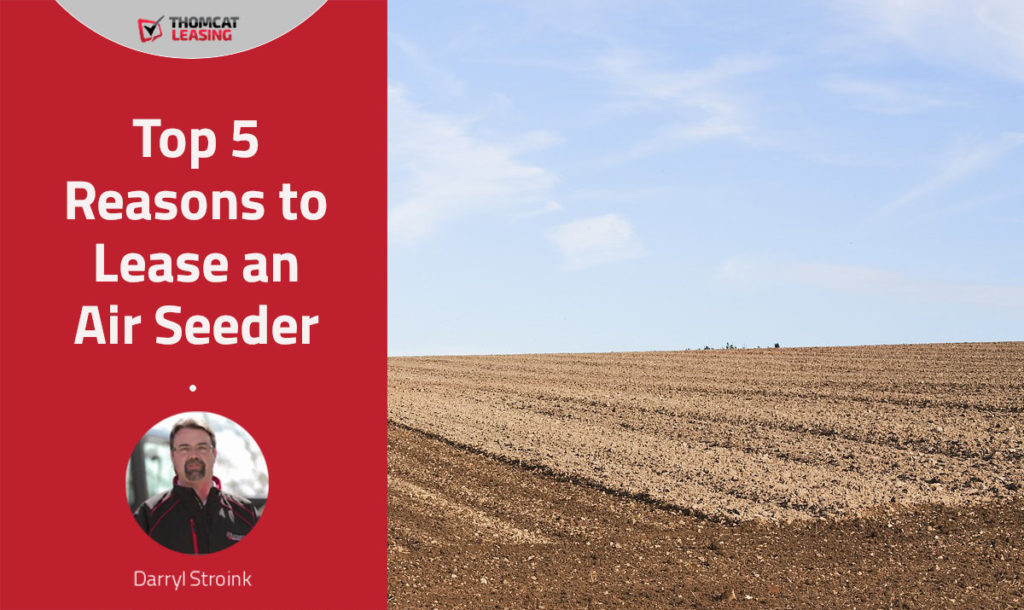 Need an Air Seeder this Spring? Keep these Points in Mind
Leasing is a great option if you want to lower your upfront equipment purchasing costs. With equipment leasing, you are able to spread out your payments on a schedule that works for you plus saves you money on taxes.
With an equipment lease, you can expect:
Lower upfront costs
An air seeder that pays for itself
Payment plan that matches your growing season
Better tax deductions than a loan
Easy upgrades to different equipment
Lower Upfront Costs
Bank loans come with a lot of upfront costs that you have to pay before you can even get your hands on your new air seeder. Down payments, taxes, inspection costs, transportation fees – they all add up pretty quick.
Lease deals will have smaller down payments, if they have any at all. They also let you roll the other costs into your monthly payments instead of paying them up front. That way you can get your air seeder faster and put it to work paying for itself. Leasing also gives you more buying power, so you can lease better quality equipment with less cash on hand.
Your Air Seeder Pays for Itself
Leasing solves the problem of how to get the equipment you need to make money to buy the equipment you need. Break out of this frustrating cycle by making your next air seeder pay for itself with a lease deal. Use it to plant your crops and then pay for it in installments with the profits of your harvest. As a bonus, you can structure your payments to match your growing season!
Seasonal Payment Structure that Matches Your Business Cycle
Leasing offers flexible payment schedules that match the seasonality of farming. Banks prefer you to make regular payments of the same size each month. But lease deals can be structured so that you pay during the times of the year when you have cash flowing in from selling your crops.
Deduct Your Payments from Your Taxes
Leasing your next air seeder also has tax benefits. Because your monthly payments are considered a business expense, you can write the entire payment off – even if you have a lease-to-own deal!
Compare this with a loan, where you're still making monthly payments but you can only write off the interest portion.
Upgrading is Easy
Technology is always changing and so are the needs of your business. Don't get stuck buying an air seeder and then having to sell it at a loss. If you lease it, you'll be able to trade-in or trade-up at pretty much any point in the lease you decide.
Ready to Get the Leasing Advantage on Your Next Air Seeder?
Thomcat Leasing has been strengthening small businesses like yours with equipment financing since 1989. We understand the needs of Canadian farmers and we'd love to get you a great rate on your next lease with a deal that grows your business. Start today with a lightning fast estimate!