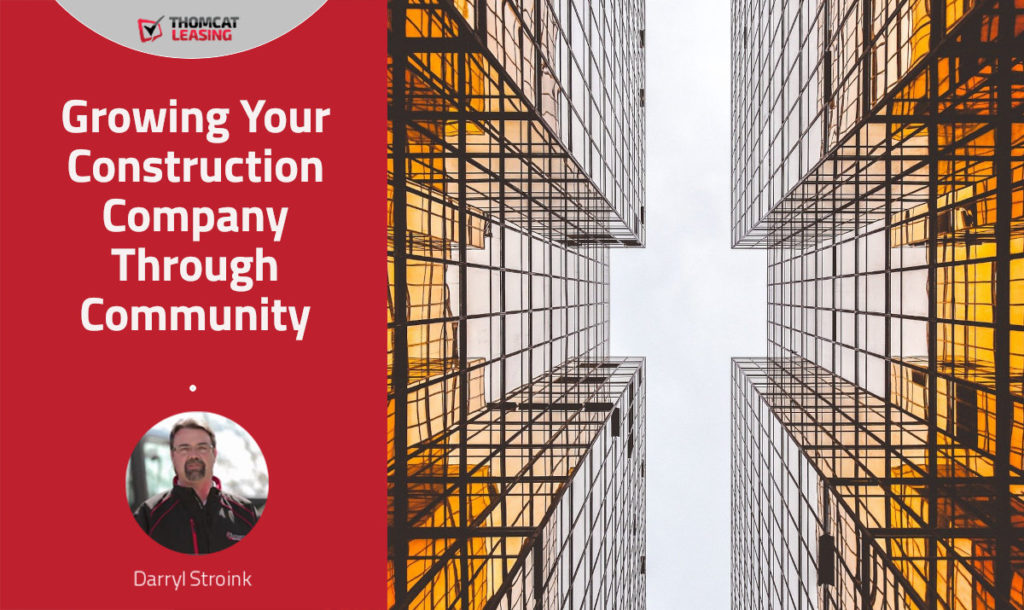 How to Grow Your Construction Business and Beat the Big Guys
While big construction businesses seem to dominate the market, small businesses can carve out a niche in their communities. In fact, if a small construction business can integrate with the local community, they will have no trouble getting contracts and growing their business.
Of course, it takes some skill and dedication – and a mindset to contribute to your community. If you follow these tips, your business might become a formidable competitor in your region.
You Know Your Local Community
Major construction businesses might operate in your area, but that doesn't mean that they know your community as well as you do. Since you live in the area, you know better than anyone what your customers need for a successful construction project.
From the type of dirt your building on, all the way to building codes and zoning laws… You know it already. Every town has different needs due to the market trends, supply availability and infrastructure. Think of all the bloated engineering and planning costs you are saving your clients, simply by already understanding the challenges and needs that will be encountered.
When you market your business, highlight the fact that you're part of the community. If you've lived in this region for years, point out that you know your neighbors personally and have connections throughout the area. When people see that their neighbors have had a good experience with you, they're more likely to hire you over a big-name company. Most people prefer to support local businesses as long as they know that they're reliable.
Sponsor a Local Event
You might be involved with the community on a personal level, but not everyone will connect your name with the business. Sponsor an event in your area to spread the word and build a positive reputation. You could host your own event that brings the community together for a night of fun and social interaction. For extra goodwill, hold a fundraiser and donate the proceeds to a local charity.
You can also sponsor or volunteer for events held by other organizations. For example, you could donate a large gift to a charity auction or sponsor a community staple like a baseball team. You and your employees could volunteer at local charities, then highlight your accomplishments on your social media and website. This shows customers that you're not just here to take their money–you're here to make the community better.
Stay Active on Local Issues
Ally yourself with some charities and regulatory boards that determine the future of your community. Participating in relevant council meetings, connecting with the town mayor and council, and playing a little politics goes a long way. Imagine if those multi-million dollar city contracts were going to you?
Make it your goal to network and connect with new people in your community every week.
Be Personable and Professional with Your Clients
It might be obvious that you need to be friendly, courteous, and professional with your clients. But try to set yourself apart by going the extra mile and asking the hard questions.
Don't be afraid to ask your clients how you did. Get frequent feedback. If you identify any issues or pain points, fix it. Those clients will go on to sing your praises in the community. Reputation can make or break you in the construction industry.
It also doesn't hurt to "grease a few palms." No, don't bribe people. Try buying a box seat for your local sports team and treating select clients to a game. Find out what your client likes to do and get it for them. You could throw in little extra things on the job you're doing without (seemingly) charging for it. Just little things – don't go too far – you want to appear friendly, not as a suck up.
Everybody likes to be spoiled and to be validated. In this case, you're just validating their decision to hire you!
Now that You're Ready to Grow, Get the Equipment You Need
With all these community building tips in mind, you'll need equipment to support your growing construction company. Thomcat Leasing offers equipment financing that makes it easy to get the equipment that you need at affordable payments. Our equipment leasing services will enable you to get the equipment and compete with the big guys.
Get started today with our free online estimate. It only takes 60 seconds to see how affordable your next equipment purchase could be.