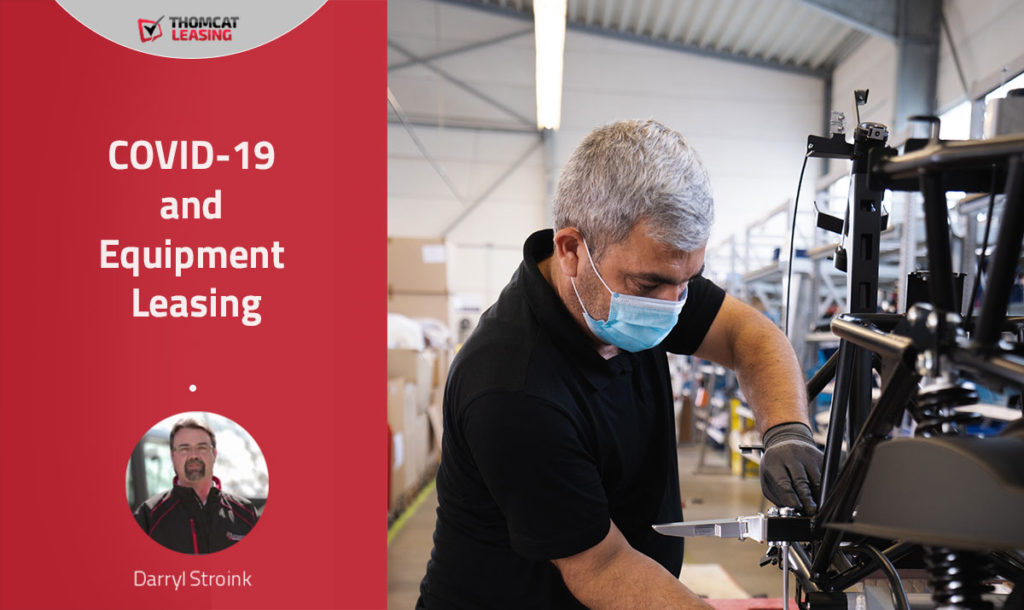 Pandemic Life has Changed Equipment Leasing—Here's What That Means for Your Business
It's pretty clear by now that few areas of our lives escaped the reach of COVID-19. The good news? Change often brings new opportunities for those who are willing change along with it.
From the initial lease estimate to the final paperwork, equipment leasing has seen its share of changes. Companies are moving online and going digital, banks are cautious and our clients in all sectors are seeing shifts in their industries. If your business has seen changes over the last year, you know how important it is to stay nimble and look for ways to adjust with the times.
Equipment leasing is changing right along with you.
Digital Paperwork
Across industries, and even in the personal sector, this pandemic has pushed us into digital platforms like never before. In fact, experts believe that COVID-19 has effectively fast-forwarded our digital adoption by a good 10 years.
Equipment Leasing brokers, like Thomcat Leasing, are responding by offering a contact-less process, not just for lease estimates, but for the entire application process.
Customer support is critical and contact with a live leasing expert (over the phone or digitally) is still available and always part of the package. The new application process is especially convenient for those in remote areas. Leasing applications that used to be done on paper in an office are now available online and contact free– wherever you do business.
Cautious Banks
Not surprisingly, 2020 left the banks wary with their funds. If your business has good credit, you will likely see little change. However, if you are dealing with poor credit, lease approvals have become more difficult.
Equipment leasing companies across Canada are seeing constriction in the poor credit market. Now, more than ever, it pays to clean up your credit score before trying to obtain a lease. Looking for a couple tips on how to do this? "What It Takes to Get Approved for Your Equipment Lease" is a good place to start.
Labour Disruptions
Back in March of 2020, an avalanche of unemployment, which Statistics Canada called "the most rapid employment decline in our country's history", led to the creation of the Canada Emergency Response Benefit (CERB). This weekly subsidy was designed to help out families who had lost income due the pandemic. However, it has also acted as a damper on the number of people actively seeking reemployment.
Labour shortages are a pressing problem in some industries right now. Many of the affected companies are choosing to invest in more equipment as a way of lowering their labour needs. Equipment leasing companies are uniquely positioned to make that process as simple and affordable as possible. Often, you can replace a labourer with equipment that costs less than monthly wages.
Buying and Selling Online
Even before the pandemic, online shopping was taking over more and more of the equipment sales industry. In 2021 it has become a platform you can't ignore. Auctions, online classifieds, and even dealership sales are all taking place on the web.
Many leasing companies are offering free vendor tools for small businesses. Thomcat Leasing's free Vendor Toolkit includes things like co-branded applications, a lease estimate form to install on your website and the ability to offer potential customers quick and easy financing on the equipment you sell.
Want to find out if leasing is a good fit for your business this year?
Thomcat Leasing is here to help you navigate this challenging time. Whether you are looking to acquire additional equipment or sell your old stuff, we are the solution. Our leasing experts are happy to go over specifics and answer any questions you might have. Get 30 years of experience and wide-ranging industry contacts working for you! Give us a call or get a quick and easy online lease estimate today.