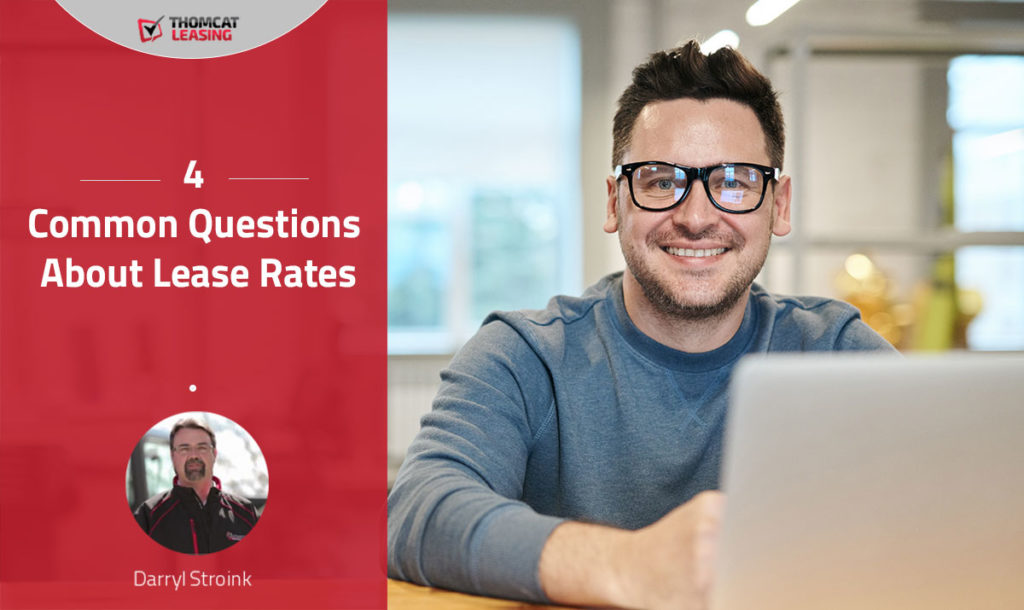 Answers to Your Equipment Leasing Rate Questions – No Head Scratching Required
If you're in the market for a new equipment lease, you might be thinking about leasing rates.
What's a "good" rate?
How do I find the best equipment lease rates for my situation with a minimum of hassle?
Will my rate change over the course of the lease?
How does equipment leasing compare to other forms of credit?
No one wants to spend a lot of time on financing, but as a business owner you've got to watch the bottom line. We get it. In this article we'll go over the four questions above and help you map out your options and find the solution that's right for your company.

1. What's a "Good" Rate?
Anytime you need financing you will be paying for the use of your lender's funds. The amount you pay is called your leasing rate or interest rate.
A good rate depends on your credit score, the amount you are borrowing, and whether the equipment you are leasing is new or used. For clients with a good credit score, competitive leasing companies (like Thomcat Leasing) can offer as low as 4.99% on new equipment leases over $100,000. Standard rates come in around 7%-9% for good credit on leases under $100,000. Rates between 9%-13% are common from less competitive lessors, or if you are dealing with bad credit.

2. How Do I Find the Best Rate for My Situation?
It pays to be aware of the difference between a lease broker and a financial institution.
If you go to your bank for a loan or line of credit, they will offer you the rates and products available through their financial institution only. A business equipment lease broker is an independent contractor who can negotiate with multiple financial institutions. This gives brokers greater flexibility to shop around and find the best rates for your situation. Some financial companies specialize in solutions for poor credit risks, some specialize in low rates for great credit risks. No one financial institution has the best rates in every situation. In many cases, it pays to tap into the wider pool of options a lease broker can offer.

3. Will My Rate Change Over the Course of the Lease?
No, your payment and rate do not change over the term of your equipment lease. Leases are fixed rate financing.
Your equipment lease rate is not based on the fluctuating index rate or market pressures. This is a major benefit over variable loans, as it allows you to plan around a consistent monthly payment for the term of the lease.  Variable rate financing (like some loans and mortgages) can offer a lower interest rate when the index rate is low, but the rate, and therefore your monthly payments, are likely to go higher over the course of term.

4. How Does Equipment Leasing Compare to Other Forms of Credit?
Business Credit Card
They are quick and easy, but they come with the highest standard interest rates of any common financing method—usually around 19%, but frequently as high as 39%. It doesn't take an advanced math degree to realize interest is going add up fast and make paying off that loan a steep climb.
Credit Cards are considered high risk to lenders because they are "unsecured." That means your credit card isn't really tied to any asset. It's only tied to your personal or business finances – which a lender will readily ruin to get their money back (plus interest).
Auto/Equipment Loans
An auto or equipment loan is essentially a cash loan (debt) secured to an asset. Third party lenders offer rates that vary tremendously from 4.8% for excellent credit to as high as 46.9% for bad credit.
Loans and Leases are similar forms of credit. You can learn about the differences between an equipment lease and equipment loan here. They are both secured to the asset, and rates are often quoted based on the expected resale value of the asset. Better rates are provided to better assets, just in case you fail to make your payments.
Business Lines of Credit
Again, you'll find a wide range of rates from 5.5% for good credit up to 25% for poor credit. There are secured and unsecured Lines of Credit (LoC). And often an LoC is a variable rate, so monthly payments will vary widely. However, you are able to use the LoC for more things than just equipment purchases.
Leasing will often offer similar or better credit rates than a LoC. So if you are borrowing money in order to purchase a specific asset – equipment leasing is a better choice.
It's important to note that all three of the above forms of credit are loans from an accounting perspective and so will have an impact on your debt ceiling. Equipment leasing is not considered a cash loan and will often not be included in your debt load.
Mortgages
Mortgages are on a different playing field entirely. As you well know, they are used to purchase real estate (NOT equipment). Rates are extremely good in the Mortgage industry. But it's important to understand that those rates are not realistic in any other form of lending. Real estate doesn't depreciate the same as business equipment.

Have Further Questions? Get an Experienced Equipment Lease Broker Working for Your Business
The friendly equipment lease brokers at Thomcat Leasing have created a 60 second lease estimator so you can get answers fast.
Getting a great rate starts with getting the business equipment insiders working for you. Equipment leasing with Thomcat Leasing puts over 30 years of industry experience, contacts, expertise on your team.
Business equipment leasing can be easier, quicker, and more affordable than you think. Get a no-obligation, 60 Second lease estimate today!