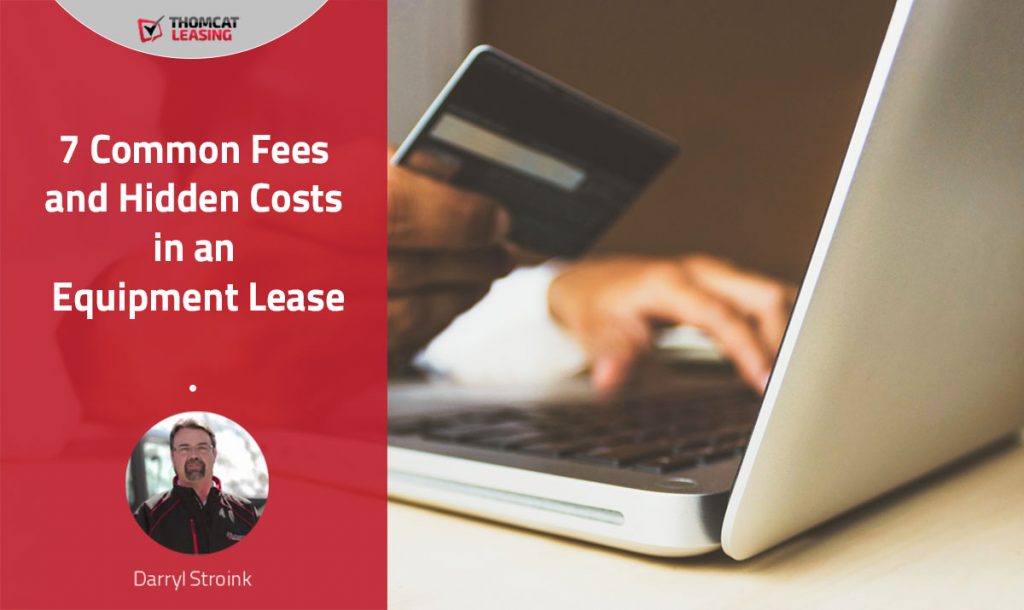 Avoid Surprise Costs on Your Next Equipment Lease Before You Sign
Equipment leasing is designed to make expensive equipment affordable. Your lease will break down the purchase costs overtime and allow for minimal cash spending on the initial purchase.
Like any big transaction, you can expect some fees and costs associated with starting an equipment lease. Of course, not all fees are respectable or necessary. Protecting your cash from a bad deal is obviously important.
In this article, we'll explain the 7 most common fees – which costs are legitimate and which costs are not.

Documentation Fees
Documentation fees cover the administration costs associated with processing your new loan or lease. Depending on the type and size of the transaction, these fees can run between $150 and $1200.
Nearly all loans and leases come with documentation fees, but it pays to find out what you will be charged beforehand. This is usually rolled into your equipment lease and you won't pay anything out of pocket.

Application Fee
This is money the bank or lessor charges for taking/processing your application. It's a gratuitous padding fee and should cause you to look elsewhere for your equipment lease. Do not pay an application fee.
Application fees vary widely and are usually explained as covering the cost of reviewing and processing a loan application. They can also show up as a non-refundable deposit submitted with your application. Again, these are unnecessary fees and a sign you may be paying too much for your lease.
First and Last Payments
First and last payments are customarily collected at the start of a lease. They are important to be aware of as they will affect your upfront costs.
Dig a little deeper and find out where that money is going. Will the first and last payments be applied to the lease? Or are they being held as a security deposit?
Some companies will hold these payments as security until the lease is finished. If this is the case, be sure to obtain receipts and documentation that states when and how those payments will be refunded.

Accountant Costs
If your lessor wants financial details above and beyond the basics (e.g. financial history, general ledger, balance sheets, income statements, value assets, etc.) you may incur accountant costs. These are costs you might incur with your own business accountant and won't actually show up in your equipment lease.
Generally speaking, if the lease or loan is for less than $20,000 you won't have to worry about additional financial documentation. Some lessors, like Thomcat Leasing, can write leases up to $85,000 without requiring extra financials. Don't be afraid to ask your lessor upfront if they will need this additional documentation so you can plan accordingly.

Delivery Fees
Getting your new purchase inspected and delivered can end up being a substantial cash outlay. A good lease company can roll those costs into your monthly lease payments and save you having to pay them upfront. Be sure to find out what charges are being incurred for transportation, shipping, customs and inspections on your equipment purchase.

Down Payments
Ironically, this is one cost most people go into a loan or lease expecting. But down payments can often be avoided. Whether you are offered a zero down payment option often depends on your credit rating. However, it certainly does not hurt to ask about $0 down if that interests you.
Down payments are applied to the loan principal at the start of the lease. A down payment can substantially decrease your lease payment amount or reduce your term length.

Banking and Legal Fees
As you are calculating the upfront costs of your new lease, be sure to account for any banking fees your institution may charge and/or legal fees if you require a lawyer to look over the paperwork.

Have questions about the lease process?
Leasing can be a money-saver and a good leasing company will take the time to customize your lease to fit your budget. Be aware that much of the lease process is negotiable and customizable.
Thomcat Leasing will work with you to find the best fit for your business needs. Our friendly equipment lease brokers are just a phone call, text or email away.
We've been in this business for over 30 years and our track record speaks for itself. We know the Canadian markets and how to get the best deal for our clients. Put our experience to work for your business today!