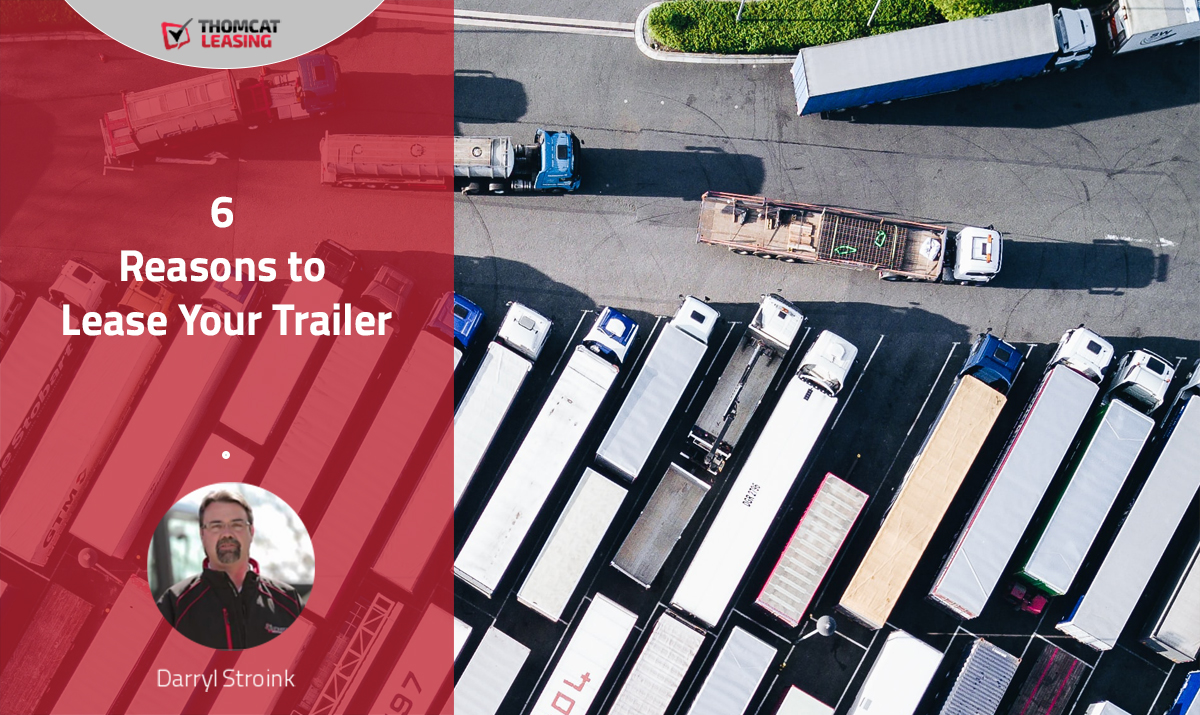 Leasing Your Next Trailer Purchase Makes Dollars and Sense
What does your business need to move forward? A flatbed trailer for daily hauling or a refrigerated trailer once a month? A single step deck or a whole fleet of dry vans? Though trailers are one of the most common pieces of equipment, some aren't cheap.
Before you wade through miles of red tape or clean out your working capital to make that purchase, you owe it to your business to look into leasing. This financing method offers many benefits:
Smaller, More Flexible Payments
Few small businesses have the cash to buy larger trailers outright. Lease or buy, you will be making monthly payments. Odds are you'll be paying less to lease equipment and the application process is far simpler.
Lease payments can also be arranged to suit your business and its unique cycles. For example, if you work in grounds maintenance your busy times are seasonal. No one likes to be paying on a piece of equipment that's sitting in the lot. Your lease can be arranged in such a way that your payments are made seasonally as well and are only payable when your cash flow is most robust.
Adjust Your Fleet for Your Circumstances
Nothing is certain except change. Purchasing means you are committed to that piece of equipment until you can afford to buy something else. Leasing keeps you flexible and ready to trade-in, trade-up, or eliminate as needed.
Greater Purchasing Power
Leasing enables you to get the right trailer for the job. Under-performing equipment comes with time and efficiency costs. It may seem like you're saving money on a lower sticker cost, but if you calculate the extra hours involved and the lost opportunity costs, your "cost saving" may actually be a financial drain.
Let's look at an example: Say you're a small-scale crop farmer getting by with a cube van to transport your goods to market. Each trip you lose 10-15% of your stock to spoilage on the road. Getting a refrigerated trailer would come with a price tag. But, if that trailer could be paid for in manageable monthly installments during the harvest season and the cost of the trailer was offset by far lower spoilage rates, you'd easily be in the black.
Easy Upgrades
Using our refrigerated trailer example, imagine a couple years down the road a new model comes out that has time and money saving features you'd like to take advantage of. Had you bought the trailer, you'd now be trying to sell a used trailer at a fraction of what you paid for it. With leasing you can upgrade at nearly any point during the lease term. You simply release your current equipment and start leasing the upgraded model.
Healthy Cash Flow
Buying a trailer involves significant cash outlay upfront. New opportunities arise and markets change. The costs involved in purchasing a large piece of equipment can put a long-term pinch on your business savings making you less adaptable. Leasing eliminates this risk and frees up your savings. No one runs into hard times because of too much working capital.
Tax Deductions
Leasing allows you to write off the full amount of your payments as a business expense. Even in lease to own agreements the full amount of your payment is tax deductible. Compare this to financing and you might see a significant tax differences.
Want to know more?
Thomcat Leasing has been in the equipment leasing business for almost 30 years. We've seen first-hand how a good lease can enable business growth. Our customer service is personal and thorough, and our rates are excellent.
Find out for yourself by completing our free 60 second, no-obligation quote today.