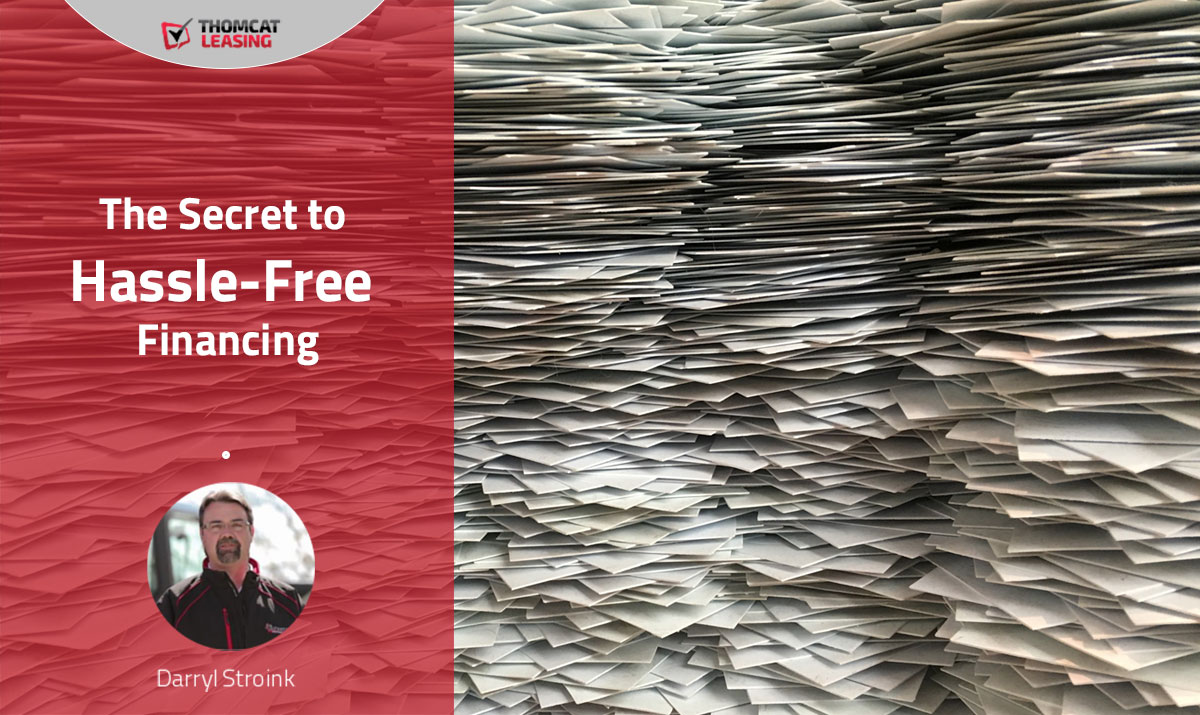 What you need (and don't need) to get the equipment lease of your dreams
Your business is ready to grow, but you require new equipment assets to get there. You may have even found the exact equipment needed. Financing is the next step, but not the one you're looking forward to.
We've all been there.
The good news? Financing doesn't have to be a huge headache. Yes, bank loans take time, paperwork and hassle, but equipment leasing is almost unbelievably straight forward. In this article we go over what you will need, and what you can forget about, when securing a good rate on an equipment lease.
You Will Need
Polish Your Credit Score
Any lender will want to look at your credit score. While they tend to play a larger role in approving bank loans, they are still a factor in securing good lease terms. Credit scores range from 350-850, with a good score being anything above 700. If your score is on the lower side, there are a few steps you can take to improve it.
Pay off any outstanding payments or debts as soon as possible.
If you don't have a business credit card, get one – using it and making your monthly payments promptly is a sure way to boost your credit score.
Pro Tip: Leasing generally does not decrease your business' available debt. This enables your business to be more financially flexible in the future and helps keep your credit score high.
Find a Lender that Understands Your Business
Sure, you know what that piece of equipment does and why it's necessary for the job, but explaining that to a suit behind a desk can be a challenge. Lenders need to understand usage. Make your job easier by finding a lease broker who specializes in leasing the type of equipment you use. They understand your reasons for equipment ownership and can secure you the best lease for your situation.
Get Your Financial House in Order
Make sure you have access to your financial track record. Leasing generally requires far less paperwork then a bank loan – with very minimal paperwork required for leases under $80,000. But, sometimes your lender will need to know your personal/business net worth. The net worth statement is your general ledger of assets, liabilities, income, and expenses.
Know your cash flow and what a comfortable monthly payment would look like. Be sure to consider maintenance costs and repair costs. We all know stuff happens and you don't want to be caught short. A well set-up lease can be designed around seasonal slow periods – eliminating payments altogether during the winter, for example.
You Won't Need
Down Payments
Lease to own financing can usually be secured without a down payment. There's no need to waste time saving up for a piece of equipment you need now. Leasing is designed to get that piece of equipment to pay for itself as soon as possible. Of course, if you do have ready cash to put toward the lease you can use it to decrease your lease payments or decrease your lease term.
Collateral
In most cases, the equipment you are leasing is the collateral. No need to involve other assets. In the case of unforeseen circumstances, you will only stand to lose the equipment you are leasing – your business and personal assets remain protected.
Time
Bank loans require a significant amount of paperwork and can involve going through your financial records with a fine-tooth comb. Obviously, this takes time – usually between a few weeks and a few months. The lease process is much more streamlined and can generally offer approvals within a day.
Ready to get lease-to-own financing working for your business?
Thomcat Leasing has been in the equipment leasing business for almost 30 years. We have the contacts and expertise to get you low payments and the right lease for your situation. Often, our loans will even beat your banks best offer. Need a custom lease schedule? No problem. Need freight or customs brokering? We can cover that. Ready for a flexible lease that's tailored to your business needs? Try our 60 second lease estimate and see just how affordable your payments can be.