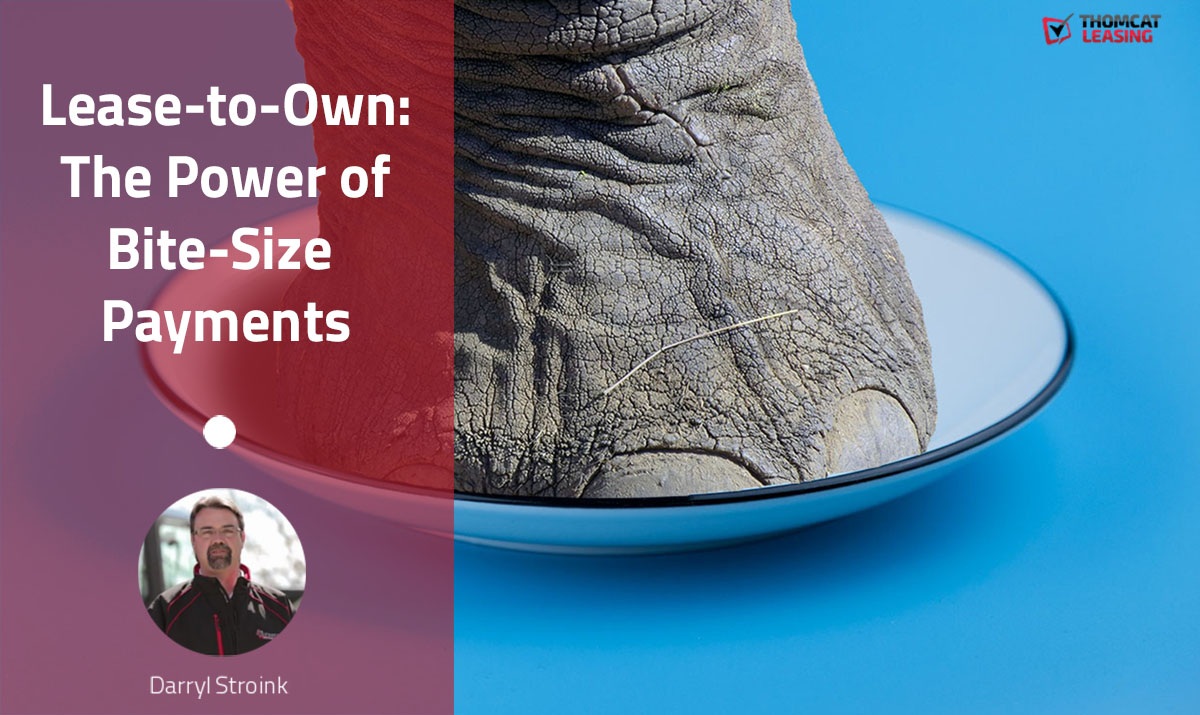 The Surprising Benefits of Purchasing Equipment in Monthly Payments
How do you eat an elephant? One bite at a time of course!
Acquiring new equipment can feel like an elephant-sized burden. Odds are, if you are in the market for a big ticket item, these are some of the questions keeping you up at night:
How can I make the process affordable?
How can I make money while I work toward paying the equipment off?
Where is the down payment going to come from?
Sound familiar?
We have good news. Equipment leasing was designed with these issues in mind. Getting the job done means breaking the cost down into manageable chunks. Let's look at how leasing can help.
How can I make the process affordable?
With a good lease the cost of the asset is broken down into monthly bites. You are paying the purchase price off a little at a time, while you have full use of the equipment.
Let's look at a couple real-life scenarios:
Jack in Surrey bought a $36,700 Used Skid Steer. His lease payment is $749 / month.
Plus he gets $8,988 in Annual Tax Write-Offs for the life of the lease.
He put zero down on the Skid Steer and will have no payments for 90 Days.
Eric in Fort St. John bought a $72,000 Used Komatsu.
His lease payment is $1,459 / month.
He gets $17,508 in Annual Tax Write-Offs
Again with zero down and no payments for 90 days.
Notice how the lease model breaks the purchase price into manageable monthly instalments? You pay off your new equipment over a 2-5 year term, while still having 100% access to its income generating potential. At the end of your term you can either upgrade to a newer model or own the existing equipment!
How can I make money while I work toward paying the equipment off?
In our experience, the monthly payment on the lease often works out to less then the new income generated by the asset. Your cash flow is further in the black and you have the equipment you need. No tight squeeze necessary.
Where is the down payment going to come from?
While it's true that most bank loans require a down payment, that is not a given for equipment leases.
Down payments can be a financial drag. Tying up money that could be used elsewhere and causing loss of potential income while you wait to save up the necessary amount.
A good equipment leasing company can streamline the process. At Thomcat we are generally able to provide an equipment lease with no down payment at all.
Other Handy Benefits of Lease to Own Equipment
Lastly, an often overlooked benefit of the lease-to-own model shows up at tax time. Your lease payments are an expense that can be used as a write-off on your business' income tax. And not just in the year you buy the equipment, but over the entire term of the lease.
As noted in the scenarios above that can be quite a significant chunk of cash. Spreading out the cost of the purchase also allows you to spread out the sales tax on that purchase. That's good news for cash flow and accounting.
It's important to understand the big picture when buying new equipment: know what you need, know your options, and know your cash flow. Buying new or used equipment doesn't have to be too much to swallow.
How much are the payments on my next equipment purchase?
Thomcat Leasing has years of experience in the Canadian market. We're small enough to offer personal, friendly service and large enough to offer competitive rates—often better than the banks. We can help you find a way to make your equipment purchase affordable and stress-free.
Give us a call today or get a FREE 60-second lease estimate. We look forward to working with you!