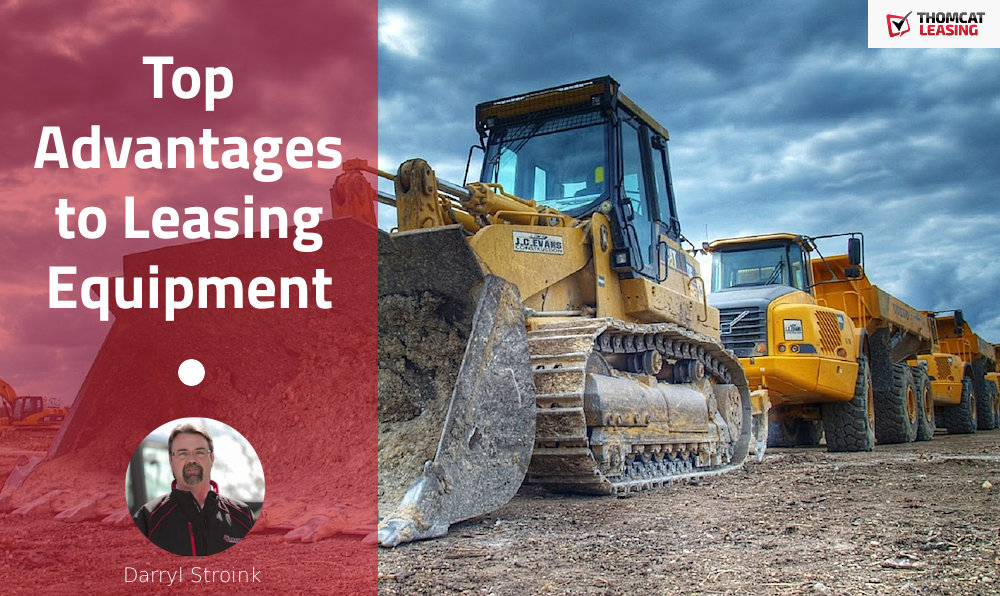 Consider putting the power and flexibility of leasing to work for your business.
Looking to upgrade old equipment? Expanding into new areas? Want to take advantage of new technology?
Consider heavy equipment leasing.
Buying new equipment can be a huge decision. You owe it to yourself and your business to explore all available options. There are solid financial reasons why leasing your next equipment purchase might just be the best choice for your company.
Leasing makes your business more flexible
Lease terms are short, allowing you the option to upgrade or change your equipment every 2 – 5 years.
Unlike buying new equipment outright, leasing enables you to take advantage of the newest technology and work more efficiently. You are never locked into one way of doing things. Businesses evolve, and market changes can mean equipment changes.
A lease means that when your business grows and changes, your equipment can too.
Leasing means you can leverage your new equipment right away
Leasing the right equipment means you can start working more efficiently and profitably instantly. Leverage the full value of your new equipment while paying it off a little at a time.
Any business owner can tell you, good equipment is worth the cost. Having the right tools for the job opens new opportunities for your business. New opportunities in turn, mean greater profitability and business growth. It's not uncommon for an equipment lease to pay for itself, and increase your bottom-line, within months or even weeks!
Leasing saves time
The old saying is true, "time is money". You have a hundred things to do; but dealing with the bank doesn't have to be one of them.
Unlike banks which require mountains of paperwork and can take months to approve your financing, some equipment leasing companies offer nearly immediate approval—often within hours. Financing with a lease broker keeps the red tape to a minimum. They only require information you have readily available and won't drown you in paperwork.
Leasing frees up your cash flow and reduces your debt load
No waiting for down payments or tying up your cash flow. Leasing allows you to keep your savings intact—in fact, most leases require little or no down payment.
Rather than spending thousands of dollars up front, look into an option that allows you to stay financially flexible and in the black.
It's also important to note that debt ceilings are rarely affected by lease agreements—a huge benefit permitting even greater financial flexibility in the future.
Lease financing terms can be custom designed around your needs
Leasing companies have the expertise to design a lease that fits your business. Each small business is unique and requires a unique lease.
A good leasing company will work with you to create a solution that is tailored to your needs and circumstances. There are more options then you think!
Get the Facts About Your Next Lease
Still have questions? We're here to help. Thomcat Leasing is a small business that understands your needs and values your time. With over 25 years of experience in the field, we can find a creative and profitable solution that will work for you.
Lease with a company small enough to provide personalized service and help, while still being large enough to deliver competitive rates— better then what you could get from the bank.
Give us a call or fill out our zero-obligation, personalized, 60-second lease estimate. You will be pleasantly surprised by the affordability and flexibility of your lease from Thomcat Leasing!