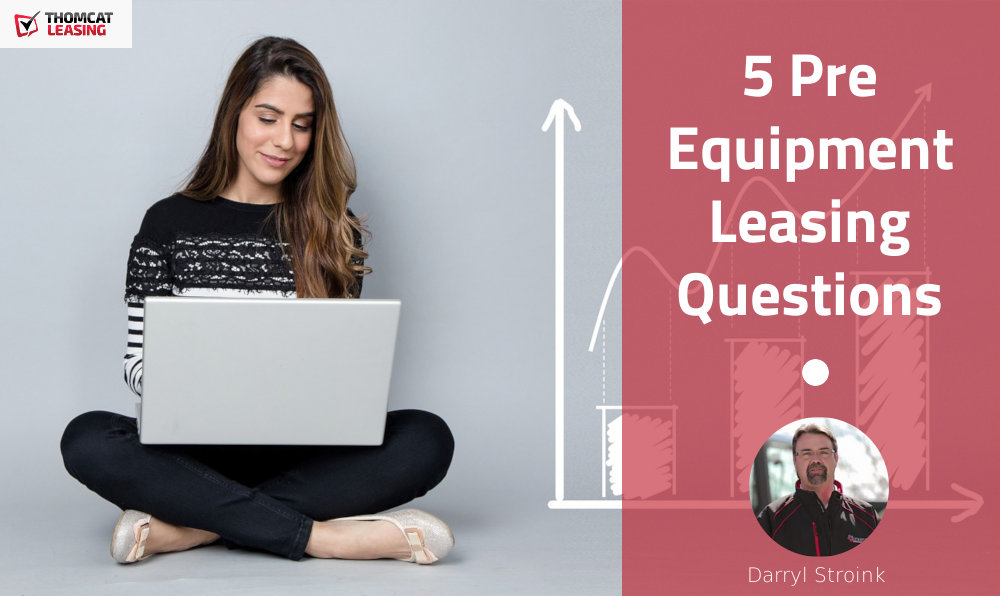 How to Acquire the Right Equipment for Your Business While Getting the Best Lease Deal
Equipment leasing is a powerful tool for businesses. You can quickly and affordably acquire equipment for your business then use the revenue generated to pay it off. This lets you grow your business and avoid cash-flow issues.
However, there is a cost to equipment leasing and you need to have a good reason to get one. Take a few minutes right now to be sure equipment leasing is right for you. These are the 5 questions you need to ask yourself before getting an equipment lease.
1. Is Equipment Leasing the Best Financing Option?
Sure, we'd like to think that equipment leasing is always your best financing option. But sadly, that's not always the case.
Equipment leasing is really successful for business owners who:
are looking to pay off the equipment in 2 to 5 years
will be regularly using the equipment during their entire lease term
can make more money off of the equipment than the payments
Take a moment to consider your circumstances and goals. Sometimes an option like rental, lump sum purchase, or bank financing works better for you.
Obviously, equipment leasing is a great solution in a wide range of scenarios. If the above statements describe you, then it's worth pursuing equipment leasing.
2. How Are You Going to Use the Equipment Lease to Help Your Operations?
Has anyone ever told you to "have a plan?" Of course. And it's being said to you right now: have a plan!
Yes, obviously you should understand how the equipment will help your business operate. However, even more importantly, you should have a plan on how to implement the equipment in your business so that you're met with success. A good plan will cover the usage, but also identify potential roadblocks or issues, and how to overcome them if they arise.
3. What Is the Equipment Lease Going to Cost?
Nothing in this world is free. Equipment lessors are looking to earn some interest off their investment in your business. Equipment leasing is very effectively priced, but you do need to remember that you are paying for the lending service. Ask your lease broker about your terms and commitments. That way you know how much you owe and when you will owe it.
An equipment lease has everything to do with your cash flow. Both in generating more cash flow with the new equipment, and in having enough to make your payments.
Consider too the non-monetary costs. There is also the investment of your time. Equipment leasing applications are quick and usually only require a little bit of financial information. Whereas most other lending products from your bank will take weeks, if not months, of time consuming applications and financial statements.
4. Does Your Business Actually Need the Equipment?
Maybe you think this is a silly question. Buyer's remorse is real though.
Instead of believing an equipment lease will grant you whatever your heart desires – think about what will really carry your business to a new level. Be realistic about the model and size of equipment. Buy based on business data – not vanity or wishful dreams.
Would you invest your livelihood on a high-risk venture? Or is it more prudent to invest in something that has a good chance of paying you back? This is what equipment lessors are considering when they look at the purpose of your equipment.
5. What Is Your Credit Score?
The best deals are for those with the best credit.
Equipment lessors will look at a number of factors to determine whether you are approved for your equipment lease. One of those factors is your credit score. Your credit score will heavily influence the deal you're offered and whether you will even be approved at all.
Check out this article on how your credit score can impact your equipment lease.
If you have some time before you need the equipment and your credit score is low, you may want to consider improving your credit score first.
Equipment Leasing for Canadian Business Owners
When you're ready to get your equipment lease going, contact Thomcat Leasing. The friendly and resourceful staff know how to get you approved stress-free and fast. Our experts will get you the best deal by brokering with Canada's top equipment lenders. Take the first step by requesting a 60 second lease estimate, and see for yourself how affordable equipment leasing might be!