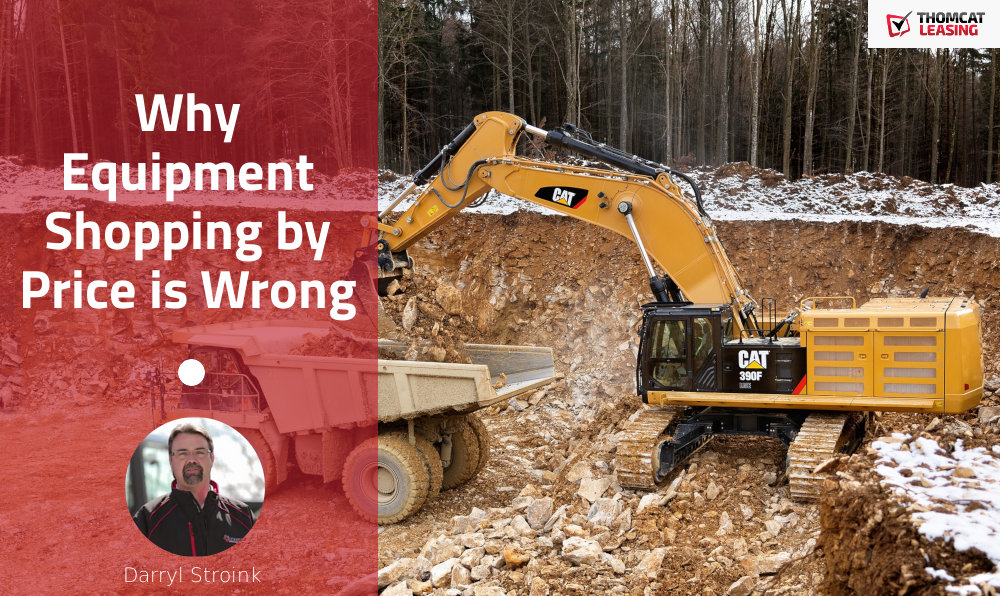 There's a Better Way to Buy Equipment While Still Saving Money
There is an old saying in life – old because it's true: You get what you pay for.
That bargain pair of shoes might lead to blisters; discount clothing may wear out after a few washes. And shopping for equipment by price alone may end up costing you down the line. Breakdowns, lost production time waiting for replacement parts, and poorly produced results are the hidden costs of shopping purely by price.
How much difference is there between equipment models?
In a word, tonnes. There's a broad difference, say, between an excavator that can move 500 tonnes per hour vs. one that moves 515 tonnes per hour.
Whatever job the equipment needs to do, performance is a huge factor in your bottom-line.
Over time, the higher performing machine consistently outpaces the basic machine. Those extra few tonnes per hour can also result in a phase of your job completed more quickly, shorter turnaround times, and a more efficient business.
A higher quality piece of machinery can help you accomplish your tasks quicker, move more load over less time, and deliver quality results – before your deadline. Your time is valuable, and something to consider when shopping.
Can you afford a breakdown?
Heavy equipment is specialized, and expensive to produce – even the most basic models. Parts and labor for them can also get pricey. When your equipment breaks your job halts (or at least slows down while you focus on repairs – instead of the job at hand).
The likelihood of a sub-par machine breaking down on the job is higher than one of better quality. When you're budgeting, be sure to add breakdown costs into your calculations.
Choosing a more reliable machine may be worth the peace of mind, despite the slightly higher up-front cost. Certain cars, for instance, are well-known to be lemons, and the cost of ownership exceeds the vehicles true worth. The same principle holds true for heavy equipment.
Those unexpected bills can quickly eat into your profit.
How much is your time worth?
Opting for the best equipment generally means machines that move more smoothly, are able to do their jobs quickly, and are user-friendly.
Consider a bit of math: A machine that's in service for 30 hours per week, versus one in service for 32 hours per week. How much difference does that make over the course of a month? The better machine does anywhere between 8 – 10 hours more per month! That's gaining a whole day worth of work – every month.
That's a significant amount of time – and your time is money. Many people don't take the profit of usability and efficiency into consideration when equipment shopping.
Investing in your business is the best investment
For small business owners, like many of us are, investing in your business means making good decisions and being good stewards of equipment, money, and time. Choosing the best tools to do the job means more profit and more availability.
As you invest in the best machinery for your projects, instead of basing your decisions solely on price, you'll become a better caliber business operator. Clients will be impressed with your efficiency, professionalism, and capabilities. And happy clients leads to more clients!
Ok, but how do I afford better equipment today?
This all sounds good, but at the end of the day future profits doesn't mean you have the cash today. This is where equipment leasing comes into play. You can finance the full equipment value into low monthly payments.
All you need to know is if the equipment can earn you more than your payments. To help you figure out what your lease payments could be, get a 60-second equipment lease estimate from Thomcat Leasing. An honest quote takes only seconds, doesn't require any sign-up, and a custom report is immediately sent straight to your email inbox!