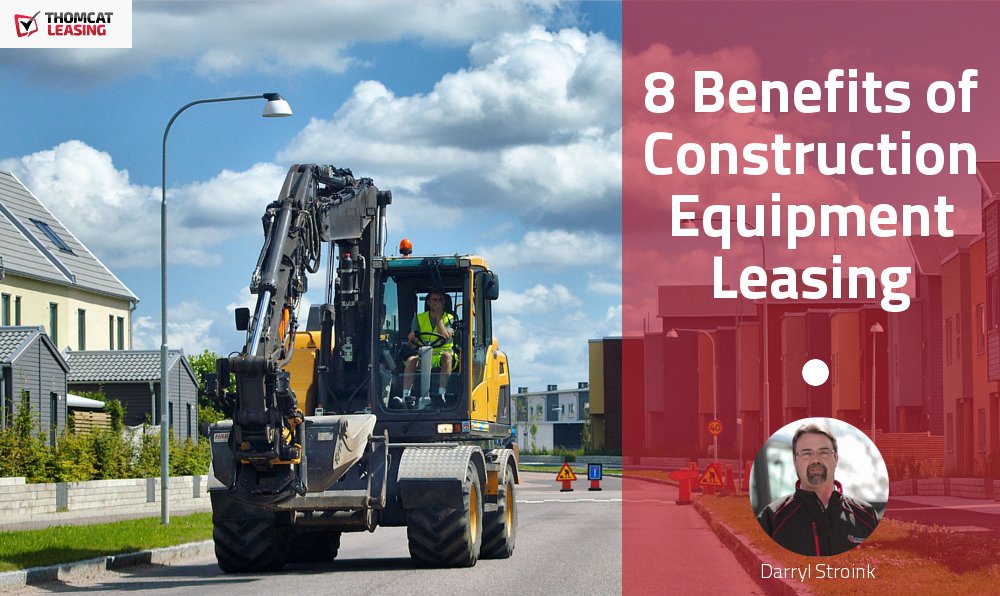 How Leasing Can Help Your Business Grow Faster
Construction equipment can include anything from a high-end excavator to the manual tools in your toolkit. No matter what you need to get the job done, all the various construction equipment can get difficult to afford.
The catch is, of course, in order to get the contracts you need the tools. In order to buy the tools, you need the contracts!
There's a way to break this cycle and thus grow your business. It's called equipment leasing. Equipment leasing let's you get the equipment you need to land more contracts, earn more, and get the job done… Without taking massive financial risks.
Here's 8 key benefits to leasing your construction equipment:
1. Buy What You Need Without the Upfront Costs.
You need the right equipment to take on new contracts. You could empty your bank account and dry up your cash flow by purchasing your equipment outright, but then what happens if your business runs into a hiccup or you need to make repairs? Even if you get a loan, the down payments can be excruciating followed by large monthly payments.
When you lease, you can afford the machinery you need now with only small monthly payments to worry about. Being able to acquire what you need enables you to bid for contracts you couldn't before. By becoming more competitive, your business can grow faster.
2. Pay for Your Equipment with the Money it Makes for You.
If you lease, the amount of money you owe in monthly payments can be made by the work your equipment brings in. The only thing you need to be sure of is that you can make more money with it than what you owe each month.
Not to mention, you can get higher quality equipment that doesn't break down as often. Your business becomes more reliable and able to get jobs done quicker thereby building a positive reputation for yourself.
3. Be Flexible with Your Payment Plans.
Often, construction equipment can sit idle for a time because work can be dependent on the season or because that piece of equipment is only required for a specific task. This can be frustrating when you're making payments on equipment you aren't using.
When you lease, you can have those down times structured into your payment schedule. Why pay for equipment when it's not making you money?
4. Stay Current and Keep Your Equipment Up-to-Date.
Construction equipment and the technology that comes with it changes quickly. Not to mention, construction works your equipment hard. If you've leased your equipment you don't need to worry about trying to find ways of selling outdated technology or equipment that no longer runs smoothly. Instead, you're free to upgrade and stay current with ease. Leasing gives you the flexibility to change with the needs of your business.
5. Enjoy a Higher Overall Tax Savings.
Did you know your lease payments are seen as an expense in your tax filings? This means they can be used as a write-off on your income/corporate taxes. In addition, the sales tax is spread out over your lease term. Giving your accountant regular access to input tax credits (ITCs) on your GST, PST, or HST filings.
6. Get the Equipment You Need Without Increasing Your Debt Load.
Your lease usually won't be considered a loan so you don't need to worry about it affecting your credit limit or future loans. This gives you the freedom to borrow in the future if you need to.
7. Keep Your Rates Fixed.
Leasing is usually structured with fixed rates, so you don't need to worry about your payments changing in the future. You can plan and budget knowing you won't experience surprise interest rate fluctuations. Your payment amount remains consistent.
8. Enjoy an Easy Application Process and Approval.
Did you know that Thomcat Leasing has fast approvals and an easy online application process? You can get a free leasing estimate in just 60 seconds. Click here to see how affordable your rates can be.