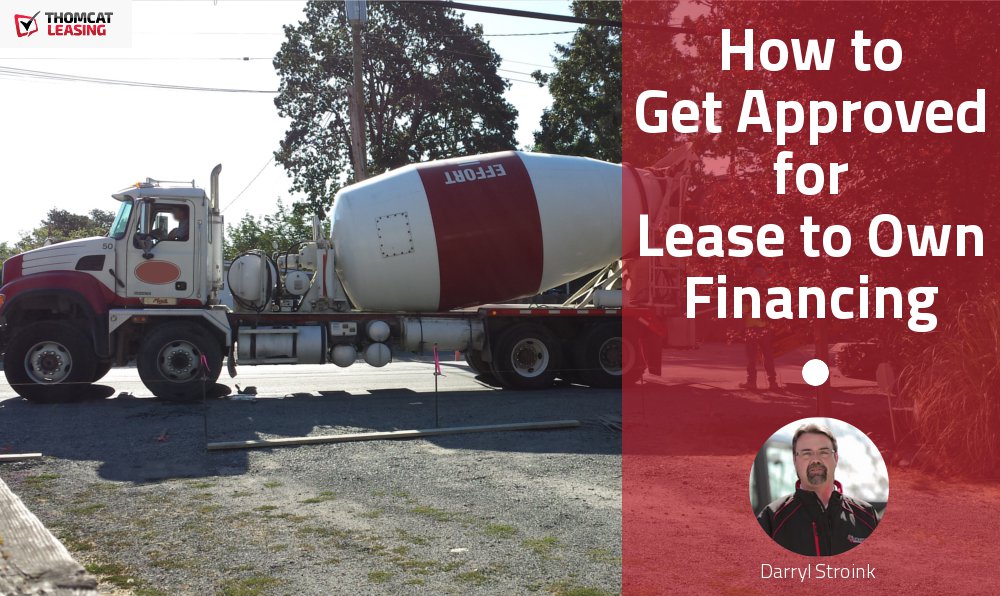 It's Easier Than You Think
You've gone through the listings and found the equipment you're looking for. Now you need to decide whether you're going to lease or take out a loan. There are benefits to both, but is one actually easier than the other? Turns out, the answer is yes.
So, what do you need to get approved for a lease?
Credit Record and Credit Score
Your credit score is something every financial institution will look at, whether you're looking at a lease or a loan. Scores typically range from 350-850. A good score is anywhere from 700 and above.
Credit scores tend to play a larger role in approving a loan, however, they're still important for securing a lease with good terms.
There are a few things you can do to improve your credit score:
Get a new credit card if you're business doesn't already have one,
Stay up-to-date on your credit score and payments and dispute any discrepancies,
Pay off any outstanding payments and debts as soon as possible.
Once you've achieved a high credit score, there are some effective ways to maintain it:
Keep your credit card balances low,
Limit the amount of credit applications you make.
The value of achieving and maintaining a high credit score can help your business grow faster because it can open more doors to you. It is also important to note, that if you lease your equipment, it usually won't add to your overall debt load. This helps to keep your credit score high.
Down Payment
Lease to own financing generally doesn't require a down payment. This is particularly advantageous because you don't need to waste time saving up for a piece of equipment you need now. Even if you already have enough for a down payment, you can choose to keep that money in your cash flow. It's always a good idea to have a financial buffer zone just in case something happens.
Of course, if you do want to put in a down payment, it will decrease your lease payments and/or decrease your term.
Time
When you get a loan from most banks they want to dive deep into your financial records. This can often take weeks. Time you don't have.
Get that equipment as soon as possible and start making it work for you with leasing. With a lease, you can often get approved in minutes.
Financial Statements
In addition to requiring more paperwork for loans, banks will often insist that you maintain minimum financial ratios. If you fall below those ratios the bank can recall the loan. This isn't an issue with a lease.
A good lease to own solution won't require a lot of financial statements. Usually you can get away with minimal paperwork on leases under $90,000.
As with any financial commitment there are some things to keep in mind:
What is your monthly budget? While lease payments are usually lower than a loan, you still need to be able to cover them. As well, both usually leave you responsible for repairs and maintenance of the machine. If something happens, do you have enough money in your cashflow to cover those costs?
How long have you been in business for? Lenders want to know that you are going to stick around and make your payments. They generally prefer that you've been established for at least 2 years so that they can see your financial track record.
Collateral
With a lease, you generally don't need collateral. The equipment is the collateral.
So if you fall onto rough times and fail to keep up your financial obligations, you'll lose the equipment – but not your shirt (or house, or other assets).
Strange Equipment
You might know the ins and outs of the piece of machinery you need and why you need it, but that doesn't mean your financing person will, especially if it isn't a common piece.
For those unusual pieces of equipment, you'll definitely want a lease broker (like Thomcat Leasing) that understands what it is. Because they can explain the usage in a way that the lenders will understand… And approve.
Thomcat Leasing
With Thomcat Leasing, there's an easy application process. Their terms are flexible and tailored to fit your business needs. Do you need to skip a payment on certain months? They can build that into the contract.
They'll also perform a lien check on your equipment and take care of any freight and customs brokering.
Click here to get a 60 second lease estimate and see just how affordable your payments can be.