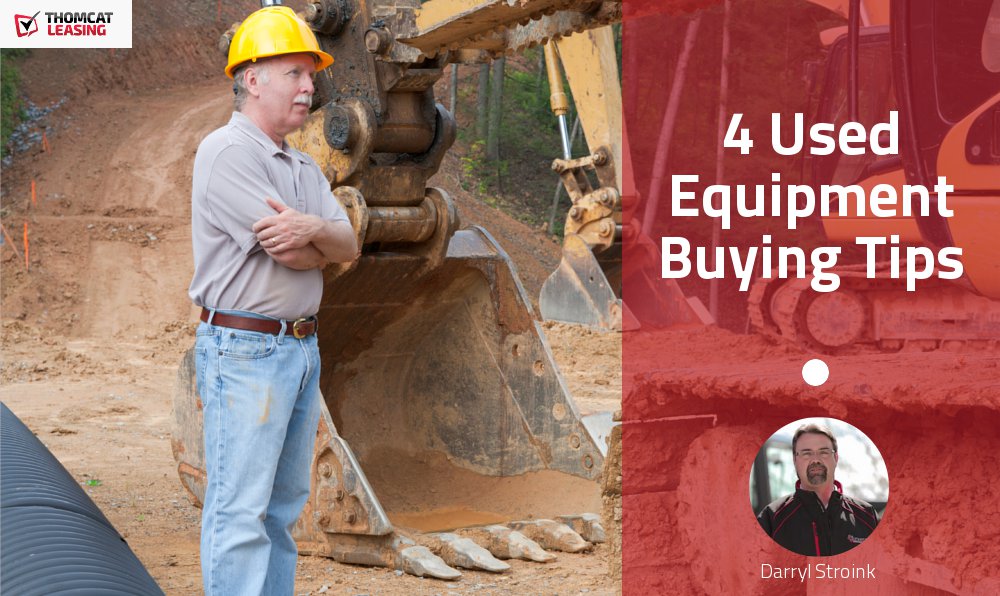 What You Need to Know When Shopping for Heavy Equipment
You've probably already figured out that when it comes to shopping for used equipment, the process can be a bit overwhelming. It's worth the effort though because you can potentially save yourself thousands of dollars.
The key is to know what you're looking for and where to look for it. Here are 4 equipment buying tips to help make buying used easy:
1. Do Your Research
The greatest advantage you can give yourself is to do your research. Not only do you need to know what you're looking for, you also need to know who's selling it and how many different brands, prices, and variations in quality exist.
Take the time to compare reviews on each potential purchase. See how satisfied others were or weren't with a particular brand or model.
Often, people naturally target the most popular, but if you do your research, you might come across a lesser-known variety for less money that will do the job just as well.
2. Inspect the Machine Before You Buy
Once you've found what you're looking for, make sure the equipment is as-advertised and actually works properly. This will look different depending on what kind of machine you're shopping for, but here are some basis principles to follow:
Again, Do Your Research
You'll want to make sure you know where common wear spots are on the machine, for example tires, undercarriage, or the neck of a motor wheel scraper. As well, check to see that any attachments are the right length for the equipment.
Do a Visual Inspection
At this point, you'll be looking for any welds, plates, and cracks, especially around seals and bushings. Check for any signs of excessively loose pins, wear strips, or shims. Then look for paint or spray that may have been used to cover up a potentially significant issue. You'll also want to check for any leaking fluids.
Just like checking the cleanliness of the bathroom and lobby floors can be indicators of how well maintained the kitchen in a restaurant is, checking for any gouges on the exterior of the machine can be an indicator of what you can't see. In this instance, it could be a sign that the machine has been used more roughly than expected which can have a significant impact on its life expectancy.
Some of these could be a natural cause of wear and tear, but it's up to you to know what is a significant issue and what isn't. As well, you'll need to know if something will need to be replaced in the near future and be able to budget that into your plans.
Check the Fluids
The colour of the fluid could be an indication as to how well the machine has been maintained. Check the engine oil, transmission fluid, coolant, and hydraulic fluid.
Not only are you checking to ensure these fluids are clean, but that there aren't other issues such as water in the oil.
Demo the Machine
A machine may look like it's in pristine condition, but you won't know for sure until you turn it on and test it out. And be thorough.
Try every speed and movement of the machine. Check for any tightness in the controls, cycle the hydraulics, and check the brakes while listening for any unusual noises.
Pay attention to the exhaust. Black, white, or blue exhaust could be problematic. Black smoke could mean the air/fluid mixture is too rich. White smoke could indicate that the fuel is burning incorrectly while blue smoke could mean a smurf was sleeping in the engine.
Just kidding. Blue smoke might mean the engine is burning oil.
In the end, unless you know exactly what to look for, it's worth your while to hire a professional mechanic. The extra couple of hundred dollars now could save you a lot more in unexpected repairs and downtime later on and will give you peace of mind.
3. Make Sure You Know the Machine's History
But, before you even inspect the machine, know that the seller has the legal right to sell it. Check the title to make sure the machine is paid in full. If there is a lien on it, the title will most likely list the institution or bank.
If it turns out there is a lien placed against it, or that it's stolen property, you will most likely have to forfeit the equipment if you purchase it, even if you didn't know.
If the seller can't provide you with this information, you still have a couple of options: you can employ a lien search service, or write down the serial number or product identification number and check with the police department.
If you go through a financing company, many will provide a lien check service for you.
4. Make Sure You Can Trust the Seller
Lastly, and this is probably the most important point: do your research on the seller. Do they have a good reputation of accurately representing the current condition of their equipment?
There are a few things you can do to make sure you are buying from a reputable seller. Read online reviews and testimonials. Find out what other consumers have to say. Are people willing to endorse the seller or are you coming up with a bunch of complaints? Also, check out business reports such as the Better Business Bureau.
If you are purchasing from a private seller, this information may be a bit more difficult to come by. In that case, speak with them face-to-face or, at minimum, over the phone to get a sense of who they are. In the end, you'll want to get any claims or guarantees they offer in writing.
If you can't trust the seller, it's best just to walk away.

Melt Away Your Stress by Talking to Thomcat Leasing Today
When you've found the piece of machinery you're looking for, we're here to finance. As part of your lease, we'll provide mechanical inspections and lien checks to ease your stress. It is important that the machine you purchase works properly, so we provide these services to reduce your worry, risk, and workload! We're someone on your side you can trust.
See how affordable equipment leasing is for your business. Get a 60 second lease estimate. No obligation. No signup.