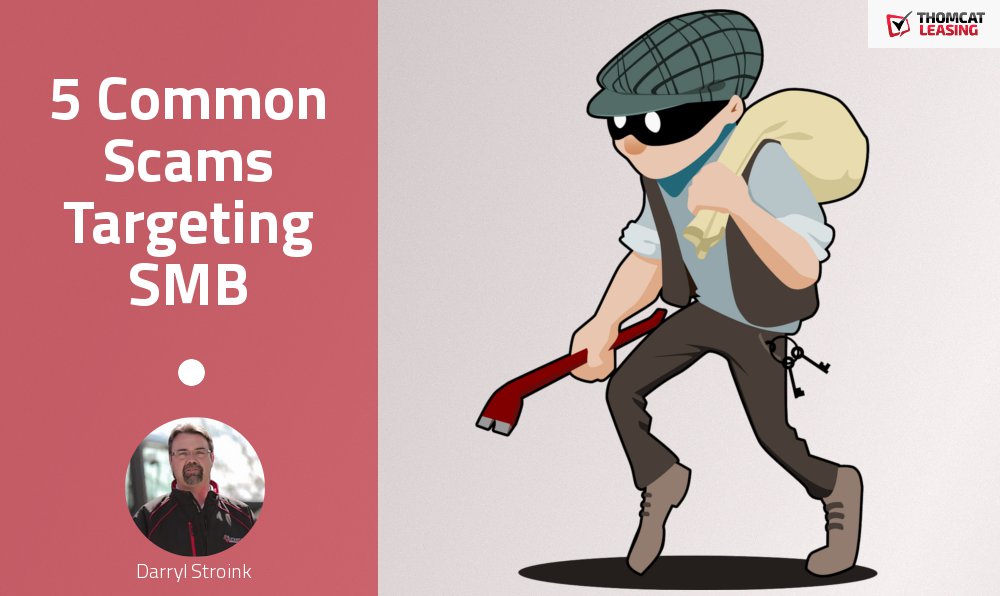 How to Protect Your Business from Fraudsters
According to the Canadian Federation of Independent Businesses, 1 in 5 small businesses were the victim of fraud or attempted fraud this past year. The average loss suffered by a small business was about $6,200. And as anyone who has been the victim of fraud knows, more is lost than just money: time, productivity, stress, and an overall drop in employee moral have been reported.
One of the best ways to fight scammers is to keep yourself and your employees informed of potential scams that are circulating.
Here are 5 common scams and how to identify them (so you can protect yourself)!
1. Email Fraud and Phishing
Definition: Phishing is reportedly named after the concept of fishing. Potential scammers send out emails or make phone calls to "fish" for information such as financial data, social insurance numbers, or password data. This is often done with emails or links to webpages that replicate legitimate sites. Scammers have been known to imitate financial institutions, the Better Business Bureau, CRA, PayPal, courier services such as FedEx, and even the RCMP.
What to Look For:
Bad grammar and spelling: This should be your first tip-off. Large companies have paid copywriters to ensure any mass emails are professional and free of errors. If your email contains spelling and grammatical errors, chances are it's a scam.
If you've received an unsolicited email encouraging you to click an attachment or link, be on guard. These can contain viruses and spyware.

Rest the mouse over any links so that the website address you are about to be directed to appears. Make sure they match and are not slightly altered web addresses to legitimate sites.
Be aware of any links that contain .exe files as these have been known to spread malicious software.

Stay calm in the face of any threats made in an email such as claims to block or shut down your account. Contact the appropriate institution before clicking any links or revealing any personal information.
2. Malicious Software Scams
Definition: Often overlapping with phishing, the creators of malicious software aim to trick you into downloading their virus onto your computer that will enable them to steal your passwords and gain access to your bank accounts. This can be done is numerous ways, such as emails (discussed above) or pop-ups.
What to Look For:
Be wary of offers that sound too good to be true.
Don't click on pop-ups. A popular scam involves a pop-up which tries to trick potential victims into clicking what they think is an antivirus program. The pop-up tries to scare you into thinking that your computer is infected. When the potential victim clicks, rather than arming themselves, they are actually being infected by a virus.
Ensure you have an up-to-date and reputable anti-virus program installed on your computer.
3. Moving Money Scams
Definition: Another way fraudsters may try to trick you is to cash phoney cheques or move stolen money. There are a number of scams that use this method: overpaying for a product, the lottery scam, the government official, or an inheritance from an unknown relative.
Often with these scams the victim is given a cheque for a sum of money in exchange for the victim giving the scammer a smaller portion of that money. Later, the victim discovers that the cheque was phoney and the charges were reversed.
If you re-direct any portion of that money on behalf of the scammer, you may even find yourself inadvertently participating in a money-laundering scheme.
What to Look For:
If it sounds too good to be true, it probably is!
Remember that even after the funds have cleared, cheques cashed into your account can be reversed. If you are unsure if a cheque is phoney, it's easy enough to have the issuing bank certify the cheque.
Nobody overpays for something. Don't believe the story, no matter how convincing it is.
4. Request to Change a Supplier's Banking and/or Mailing Details
Definition: In this scam, the fraudster tries to contact someone in the Accounts Payable department either by fax, email, or phone. They will request that the supplier's address and banking information be updated. In this way, future payments will go to the new account or address rather than the supplier.
What to Look For:
If they phone, they may follow up with a phoney email or fax.
If the request comes by fax or email, it may be designed to look like the legitimate supplier. Check to see if there are any alterations.
Always phone back to verify that the request was legitimate, but don't use any new numbers they give you.
Don't advise the individual making the request that you are suspicious and will be following up.
Implement some security questions that must be successfully answered before accepting account changes.
5. Directory Fraud or Fraudulent Advertising Scams
Definition: Directory fraud occurs when a solicitation is given for your business to be listed or an invitation to have your information updated in their directory. Other times, only an invoice is sent. Often these alternative directories are not widely distributed or not published at all. If snagged in this scheme, victims may receive letters, phone calls, and bills for thousands of dollars.
What to Look For:
Inspect the invoice.

Check the logo/name of the company. Often it will look like a legitimate listing company, but will be slightly altered.
Check the address. If it's an international address, chances are good that it's a scam.
Check for an invoice or reference number.

If you suspect something is off, phone the company and ask them to check the invoice number with their records. But do a separate search for their phone number; don't use the number given to you with the invoice.
Ask to see the contract. If they don't have one with your written signature on it, you don't have to pay it.
Reporting a Fraud
If you think you have been the victim of fraud or believe that someone is trying to scam you, contact the Canadian Anti-Fraud Centre, the RCMP, or your local police department.
Safe Shopping for Your Heavy Equipment
You might be surprised to hear it, but using equipment leasing through Thomcat Leasing can actually help protect you against scams and fraud. When you find your heavy equipment or truck, you'll let us know who you are purchasing from and what the equipment is.
Our trained staff will contact the seller and perform lien cheques on the equipment. If something doesn't add up we'll let you know. Not too mention, Thomcat Leasing takes care of the exchange in money so you won't risk your own cash.
We've partnered with Canada's top lenders so that we can give you great rates with low, flexible payments. Learn what your payments could be right now by requesting a 60 second lease estimate!