How to Buy and Sell Heavy Equipment without Losing Your Shirt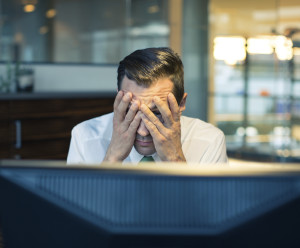 Scam artists are everywhere looking for a quick buck. These days, if you want to buy or sell something, you need to be very cautious. Buying and selling heavy equipment and commercial trucks online is no different.
March is Fraud Prevention Awareness month. In honour of this occasion, we're giving a few insider tips on how to detect a scam and get away without losing your shirt.
Red Flags that Alert You of a Scam Artist – Things to Beware Of
Most scam artists start off sounding normal enough, so don't feel bad if you get sucked into an email or phone conversation with one. It won't take long before things start feeling a awkward though.
Here are the red flags to watch for:
Requests for overpayment. Who in the world wants to "overpay" on anything in Canada, anyway? Right, big red flag here.
The inclusion of a third party. Any invitation to buy on behalf of a third party – run.
The buyer is disinterested in the present condition of the equipment you're selling. A true buyer wants to know the condition of your equipment in detail.
The buyer wants to send you a cashier's cheque or personal cheque. Just, no. You want to run from anything but a certified cheque.
The buyer wants to use PayPal. Nobody uses PayPal during a legitimate buyer or seller transaction involving heavy equipment.
The caller is not currently in the country. Usually these folks will also refuse to disclose their location.
Do not take credit cards, cheques, or any form of payment except cash, certified cheque, or money in escrow. In the case of a certified cheque, the money should be officially transferred before transferring the title to your equipment.
You should never divulge your bank account information or any passwords. It might sound obvious but unfortunately people do fall for this.
You should not follow any links emailed to you to purchase anything from a service. If you need a condition report or the other party is requiring something that costs you money, perform your own independent Google search for an appropriate service.
7 Ways to Safeguard Yourself from Scams
Here are a few ways that you can use a little fraud protection to prevent yourself from getting ripped off when selling or buying equipment:
Tip # 1 – Location: Ask the other party where they're from. What is their location? Make sure to get a phone number other than a cell phone and don't forget to grab an address.
Tip # 2 – Email: If the other party gives you an email address that's easy to create for free, ask for a "fixed email address."
Tip #3 – Google is Your Friend: Use Google to verify buyer information given to you; address, phone number, etc.
Tip #4 – Cheque Verification: If you decide to accept a cheque, before sending the goods, verify that the cheque is legitimate and not fraudulent. You can do this by calling the issuing bank of the cheque.
Tip #5 – Money before Goods: Never send the goods until you've been paid, regardless of payment method.
Tip #6 – Seller Safeguard: Consider using a law firm or an escrow service as a third party to avoid getting ripped off.
Tip #7 – Deal's Off: When the deal is off, don't let the scam artist know that you're on to him or her; just say you're not interested, or that the equipment has been sold, or something like that. That way you can report him or her before he or she has a chance to hide from authority.
Follow these 7 simple tips and you'll avoid scams both online and offline when selling or buying heavy equipment!